'OTT captures the real festival spirit…' Off The Tracks Festival 2021 Review
Social Links
Off The Tracks Festival 2021

3rd - 5th Sep 2021
Donington Park Farmhouse, Melbourne Road, Castle Donington, Derbyshire, DE74 2RN, United Kingdom

Tickets for adults (with camping) from £90.00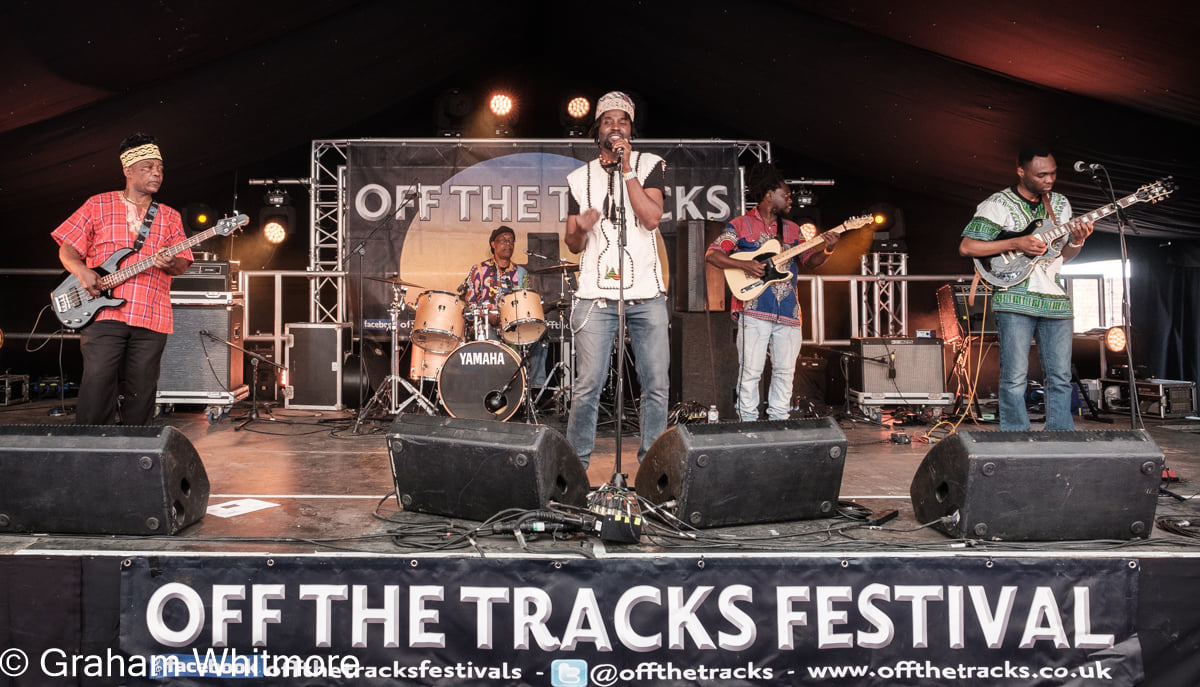 Just imagine, particularly after 18 months of restrictions, that you dreamt a dream of your ideal country pub. It would be on a massive scale, with countless different rooms, each showcasing some cracking bands. It would have a covered courtyard with a large main stage that was absolutely rocking. Impromptu sessions would fire up around the patch. This proper pub, with its own Diner selling its own estate reared produce, would be set in a unique location, say a really atmospheric converted farm, with old barns and outbuildings used for music and much else. In one, there would be a Real Ale festival going down, with around 70 different ales and ciders. There would be a large farmyard, bedecked with plants and flowers, where you could while away the hours in chilled bliss. You don't even have to go home, as they have a permanent year-round campsite with all mod cons, so you could sleep it all off, and then go again the next day, and then the next. More importantly than any of that, the wonderful people there are The Real Deal, without them, nothing else really matters… the whole place buzzes. They make the fantastic atmosphere what it is – no 'erberts, only likeminded souls; friends, and friends you have yet to meet. A raggle-taggle bag of all sorts, ages, and world views, but each coming together to form one common spirit, one huge collective hyper chilled vibe that simply carries you along, making the skin tingle from the moment you arrive. An atmosphere more House Party than Festival… Well, this is no fever dream my friends, this is Off The Tracks.
Organisers Andy & Boz have been putting on this bash for over thirty years! (Take a read of FFA's Off The Tracks Festival 2019 Review for just a taster of past events.) OTT is a rarefied and special thing; a largely undiscovered jewel in the UK's festival crown. Those in the know return year on year. Bands are transitory, but the OTT crowd vibe has permanence; a true festival is its people and this audience generate such a feeling of warmth, of togetherness, year upon year, that you could cry with joy at the sheer emotional power of it all. Many festivals, large and small, never develop further than just being bands in a field, but OTT captures the real festival spirit in spades. Particularly after a year or so of hell for the human race, the world needs events like OTT to prove we are human. It had been a long time.
This year, more than any other, simply grooving with your fellow human beings was the thing. That was the delight… and you know what? The bands really didn't matter. Don't get me wrong, this was a tremendous OTT line-up, but the true pleasure at this particular OTT lay with individuals being, well, a crowd again. FFA simply engulfed ourselves in the scene and shared experience. FFA saw loads, and missed even more. What follows is our final cut of FFA highlights. The standard was, once again, universally high and many a fine performer simply didn't make our cut. If you were there, your favourites will differ from ours. So it goes.
Friday
Talisman kick started the whole shebang for FFA. Classic old school Reggae to get the already up-for-it crowd buzzing. A great performance to set the tone for the forthcoming delights. Blimey! Dub Pistols! What a fantastic Good-Time band this crew are. The place was absolutely stomping as Ashworth and his merry men laid down some stonking beats, with a reworked 'Keep the Fire Burning' and a fabulous 'Boom' sending the well-wired crowd crazy. Great vibe. Welcome to a Friday night at OTT. Excellent stuff.
Over in the Black Barn The Cooler excelled. Now here's a covers band who stamp their own image on the music, from Hendrix to Foo Fighters they ate it up and spat it out on their own terms. Some great takes from fine musicians. Loved it. Two-Man Ting laid down some top smiley faced Afro vibes in the Oak Room. OTT really excel in promoting World Music (see Sunday), and this pair nailed it yet again. Lovely lilting sounds to drift the night away. FFA love a Silent Disco and DJ Dr Matt vs Flying Sound did the business in style… but where was the dedicated cheesy channel? Sometimes you just have to stand on a table and belt out Mr. Brightside!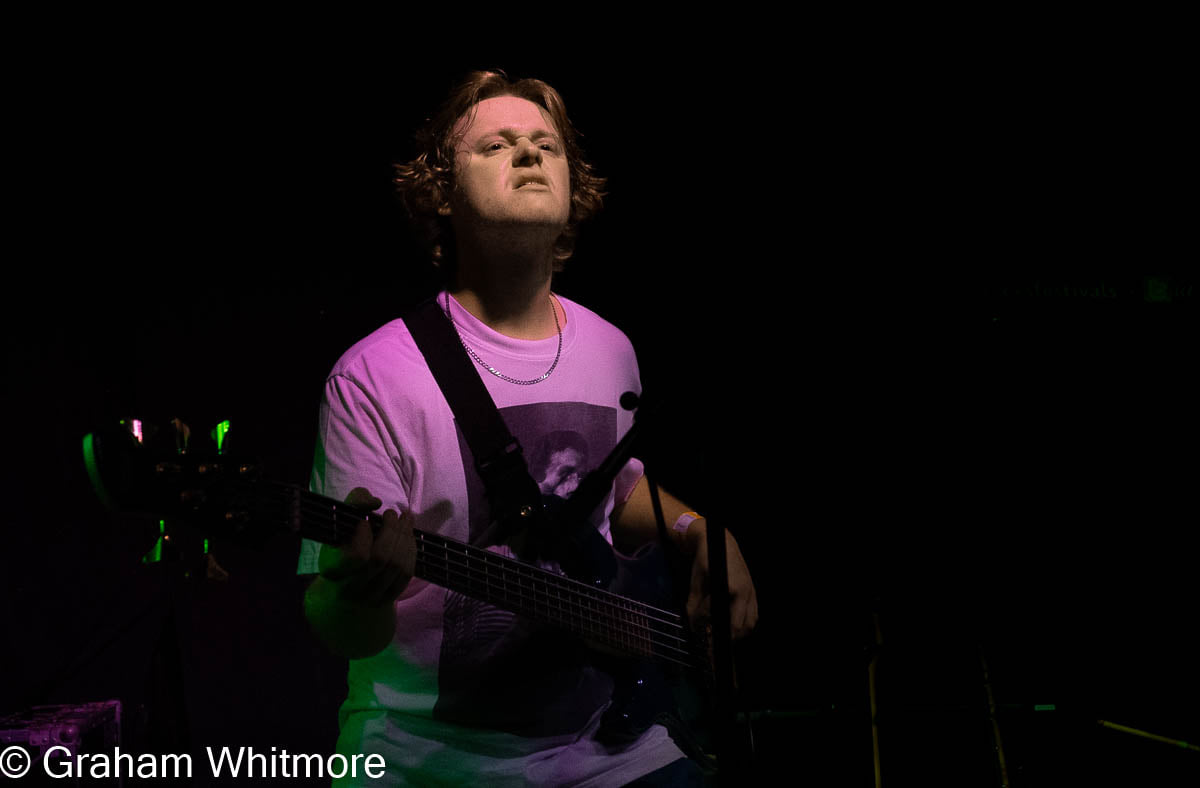 Saturday
Goldwater – This Reviewer can't better their own tag of 'Psychedelic Rock Preachers'! Wild times and a great high energy hour. They electrified the whole Marquee as the crowd was led dancing into some bizarre, shamanic three-dimensional mandala by entertainingly manic front man Grant Decker, as the band whipped up a right 'ol storm around them. Larger than life and a truly splendid outfit.
Now then. Xander and the Peace Pirates. Arguably set of the festival. FFA happened across them playing some chugging country blues reminiscent of Grateful Dead; they then proceeded to blow this reviewer away with a diverse multi genre explosion of soundscapes, most self-penned, that were truly awe inspiring. Forget other factors, by any criteria, this crew are pretty exceptional – go see 'em soon.
Socialising, general merry-making, and short-term memory loss resulted in FFA missing both Headsticks and Paul Henshaw & Dan Booth. Forgive us, even though we struggle to forgive ourselves. All roads let to Ferocious Dog. They bring their own crowd; they were fired up. The stage was set. What a blistering performance they delivered. There is a more rounded feel to the band these days, with a perfect balance of highs and lows in the cadence of the set; just the right balance of mayhem and acoustic chill, of old and new. FFA thought them superb. In a country rife with division and hatred, where ordinary folk are encouraged to turn upon each other, their anthem 'Together We Are Strong' never had more power, meaning or relevance. The OTT crowd got it. Go spread the word.
Yet another of those wonderful OTT eclectic mix of artists swept FFA away into the small hours - Zubzub's throbbing psychedelic rock beats were still twitching FFA's synapses days later. A cracking outfit, whilst Lil Jim's one-man band antics had 'em dancing in the aisles. That boy can play. Throw in Ska Britannia over in the Threshing Barn and that perhaps gives just a hint of the diversity of happenings going down after midnight at OTT. FFA closed the night chilling to the magical sounds of DJ Edgie laying down some cool beats in the Loz Shaw Arts Introducing Stage; home to a fine collection of young emerging talent during the day. The future of music is safe in the hands of these kids, and OTT should be commended for providing a platform for young performers to express their considerable talents.
Sunday
Those choosing to leave early missed a peach of a time. FFA crawled early from our pit to miss not a moment of the excellent Monster Ceilidh Band. Splendid musicians, with Amy Thatcher perhaps one of the finest and creative accordion players in the land. This was a folk meets mellow electro-beats extravaganza with a much more considered, mature feel to the band these days and with great depth to their music. The dancing crowd loved it. They really are a terrific outfit and Sunday just developed into one hell of a day.
Kasai Masai brought some fine Congolese vibes to proceedings. FFA just love Afrobeat and their jangling happy soundscapes delighted the swaying masses. A great crowd reaction. Yet more diversity in the OTT schedule with John Otway & Wild Willy Barrett. Little new can be said about these wily old stagers that is not already known, save to say mad as a box of frogs, and truly truly funny. We love these guys. It does have to be said that closing act Kissmet provided perhaps the best end to OTT that this wizened old Reviewer can remember in many a year. They were fabulous, with their blend of classic rock infused Bhangra vibes turning the buzzing crowd into one swirling unified whole. These guys can really play, and throw in a guest bass cameo appearance from OTT organiser Andy Cooper, and it was a fittingly entertaining end to a fabulous OTT.
So, there you have it. Great artists, great festival, but in this year of all years, its people were the stars of the show at Off The Tracks 2021. At the end, FFA must have had some grit in their eyes, overcome with the emotion of human bonding again in all its wonder. It was a beautiful thing. Humanity at its very best, no barriers, no filters, just people being people, together in unison, having a ball.
Article by Barrie Dimond
Photography by Graham Whitmore
Related Festival
---
Latest Festival News
---
---
---
---
---