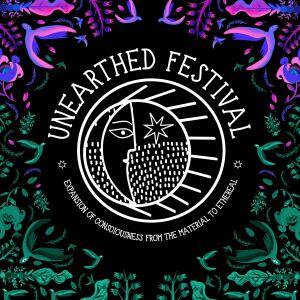 Yurt Field, Cerbid
Nr. St Davids
Pembrokeshire
SA62 6YE
United Kingdom
16th - 18th Jun 2023
Tickets for adults (with camping) from £165.00
---
Unearthed Festival 2023 Overview
Unearthed Festival is about unearthing something hidden within. Something that lies deep within us, sub language, sub thought, like an underground stream that connects us all and nourishes.
They are a festival that celebrates the expansion of consciousness through music and arts, talks and workshops, vegetarian food and community spirit.
Located in mystical Pembrokeshire, near St Davids in West Wales, the area is simply stunning. The music is as diverse as the audience, whilst talks range from topics such as lucid dreaming, sustainable construction, science and spirituality, birthing, . There is ceremony, various forms of yoga, meditation and chant as well as, film, comedy, kids activities, jamming around the fire, sauna and paddling pool, performing arts, massage and so much more to get involved with.
Within the context of the current geo-political environment with threats of war, environmental destruction, generations of poverty and poor access to human shared assets such as health and education, Unearthed Festival is here to put down some thoughts and ideas about how we can do things better.
Here's what FFA thought about Unearthed:
"Unearthed Festival is yet another jewel in the Pembrokeshire crown; with its own pilgrims drawn by the sacred beauty and mystical power of this land to share in a collective vibe of expanded consciousness, and well, a damned good party. These modern pilgrims are a ragtag bunch, a heady mix of everything from New Agers to good-time kids, young and old. It's a melting pot – and it all works together. It's a great crowd and a pleasure to be part of. There is a vibe and buzz about Unearthed that some other festivals never attain … There is a harmony; a sense of shared community; a bond. The strapline ethos of the event is 'from the material to the ethereal'. Unearthed manages to create a magical space inthose Pembrokeshire fields to shed the everyday and hopefully discover something deeper about the universe and oneself, truths as old as the land itself."
Needless to say, our FFA Reviewers simply love Unearthed, and trust our guys here, never has a festival 'About Us' page been so utterly and absolutely on the button - do check it out HERE.
---
Unearthed Festival 2023 Line Up
---