'Bearded is still up there and remains a truly excellent festival.' Bearded Theory 2019 Review
Bearded Theory 2019 Review
Social Links
Bearded Theory 2020

10th - 13th Sep 2020
Catton Park, Walton upon Trent, Derbyshire, DE12 8LN, United Kingdom

Tickets for adults (with camping) from £130.00

Reading through previous FFA Bearded reviews, one word leaps from every article each year – 'Benchmark'. Bearded is this FFA Reviewers benchmark event for festivals of this size and remains so. For value the festival absolutely excels. The countless stages, the organisation, the quality and quantity of performers, and most importantly, the VIBE helps set Bearded apart. The wildly diverse music and entertainment policy is a joy and attracts one of the most friendly and disparate festival crowds around. Bearded IS its people and the place buzzes.
The traffic hassles of last year have been banished and arrival to site was absolutely seamless. Although they have pruned back this year, little was impacted, save for some meaty main stage toilet queues and a dearth of disabled toilet facilities on the arena site. Bearded has thrived listening to its audience and their policy of continual improvement will ensure these kinds of transient issues get sorted. Otherwise everything was just fine and dandy. FFA reviewers love Bearded (see our Bearded Theory 2018 Review) and 2019 was no exception. Bearded is still up there and remains a truly excellent festival.
With six main stages, hundreds of class acts, numerous other venues hosting all kinds of malarkey, and a genuinely huge kids offering in the Children's Village, including the feted Bearded Theory School, the days just evaporate in a haze of enjoyment. With a large funfair, healing field, plenty of stalls and eateries, and everything from circus performers to spoken word, Bearded is a bit of a multi-faceted extravaganza.
Whilst the wonderful bar scenes at Bearded are (in)famous, Bearded always scores 10/10 with FFA for remaining in the decreasing number of festivals allowing alcohol to be taken into the arena. With its own beer festival with real ales starting at less the four quid a pop, what's not to like either way. Yet another example of the Bearded value principle.
Diversity is the watchword at Bearded – both in its music policy and wider entertainment. it drives the wonderful mashup that is the Bearded audience. Rarely does a festival attract such a mix of humanity. whatever your age, lack of fashion sense, interests, or musical peccadillos, Bearded has you sorted. It all comes together. It all works.
This review has neither the space or inclination to list all the wonders that Bearded has to offer. And that would be just a list after all. If you were there you'll know. If you weren't then perhaps you should have been.
… and so to the artists! Now then, all reviews are just opinion, and this happens to be ours. If you were lucky enough to grace those Derbyshire fields then you will have your own special moments and fave bands. Omission is not a criticism – there is a hell of a lot of wonderful stuff going down at Bearded over a packed weekend and we missed most of it; we'd likely be elsewhere and/or drinking. Here's just a few highlights of what worked for FFA…
Friday
Bearded nailed their musical diversity flag to the mast with the first two acts witnessed by FFA on the Pallet Stage – Hollie Cook's bubbly pop-reggae and The Wildhearts thrashing Metal. Little back-to-back performances like this say so much about the sheer depth of variety that Bearded bring to the party, but more importantly, it speaks volumes about the lovable, crazy audience who are prepared to leave any musical prejudices at the door and revel in the scene, no matter what the genre. Two excellent laconic frontmen dominated Friday for FFA. The Editors were one of the acts of the day with multi-instrumentalist and singer Tom Smith in fine form and owning the stage. A great set. Suede's Brett Anderson is another hypnotic, charismatic lead and simply excelled in the solo efforts with nothing more than guitar and spotlight for company. His rendition of 'The Wild One's' was nothing short of beautiful. A worthy headliner and Bearded had set the tone for some classic performances throughout the rest of the weekend.
Over in the atmospheric Woodlands, the tiny stage simply adds to the intimacy and The Skids rocked up a storm and laid down some classics. Jobson was suitably aggressive and the Watson clan are fine fine guitarists. Follow all that with some splendid beats from festival stalwart Michael Dog, frankly bizarre happenings around the Pirate Ship with Temporal and Gino and then an absolutely superb hour with Transglobal Underground, including some crazy scenes for 'International Times' in a throbbing, heaving Magical Sounds, and FFA retired dazed but somewhat happy bunnies.
Saturday
Saturday was butterfly day for FFA. We simply floated around the site sampling the nectar. Bearded is renowned for all its discreet little scenes, from the constantly heaving Maui Waui, to all kinds of weirdness in the Tea Tent, to a hugely disparate variety of sounds from the many sound stages, Busking Stops, and performance zones. It's no wonder the days simply evaporate into a haze of good-times. The little Alpaca tent had a wonderful vibe and became FFA's very own chill-out zone with Saturday's Space Rock session from DJ Oz perhaps pick of the bunch. Rev Hammer – what a raconteur! An excellent character. A great set including the quip of the weekend… "I've started to play with a very short guitar lead to get used to restrictions on my freedom of movement". Splendid stuff.
Reef were arguably set of the day in this reviewers 'umble opinion. Playing some lovely self-penned mournful bluesy rock it was, perhaps surprisingly, their cover of the The Faces 'Stay With Me' that took the absolute biscuit. Fantastic set. Oh Seth Lakeman, you wonderful performer you! Three quarters of an hour slot in the Woodland – what was all that about? Never mind – the bloke was fabulous, with his rendition of 'Kitty Jay' probably the best this reviewer has ever heard. An awesome talent.
Pallet Stage headliners the Cult appeared off the boil and a little single paced and one dimensional on the night (it's all opinion as I said!), but dub-punk collective Dub The Earth created mayhem in Convoy Cabaret with a damn fine knees up. A big up for DJ Clumsy who's beats appeared to be everywhere and took us flying on the Pirate Ship into the night.
Sunday
What a fabulous day! Magical Sounds must be one of the most atmospheric tents on the circuit and when Monster Ceilidh Band come out to play then all is well with the world. In this company, to rate them as one of the sets of the festival is praise indeed. An absolutely stonking crowd reaction with the whole tent bouncing – this is what Bearded is all about. Accordionist Thatcher was absolutely on the button and excelled amongst splendid musicians, and the band's unique mix of beats underpinned by a folk backdrop was truly excellent.
The Academy of Music & Sound takeover over of One Big Showcase was splendid all weekend, but some neat percussive guitar by Kimwei really hit the mark. The Circus Tent hosted some excellent spoken word sessions with Monkey Poet Matt Panesh's rapid fire, blisteringly astute deconstruction of contemporary society a particular highlight. Unusually for FFA, it was the Pallet main stage performers that dominated our day. It was a cracking schedule. Festival favourites Dreadzone are old stagers and just know how to work a crowd. Always value, the guys had the place rocking. Next up Steel Pulse generated reggae beats to die for. Another great crowd reaction with 'Klu Klux Clan' one of many highlights. Doves made an emotional return to the festival scene after a ten-year hiatus and it was frankly a triumph. A marvellous set with Goodwin The Bassist excelling; the haunting and beautiful 'Cedar Room' had the spine tingling and the crowd in fine voice. Welcome home guys.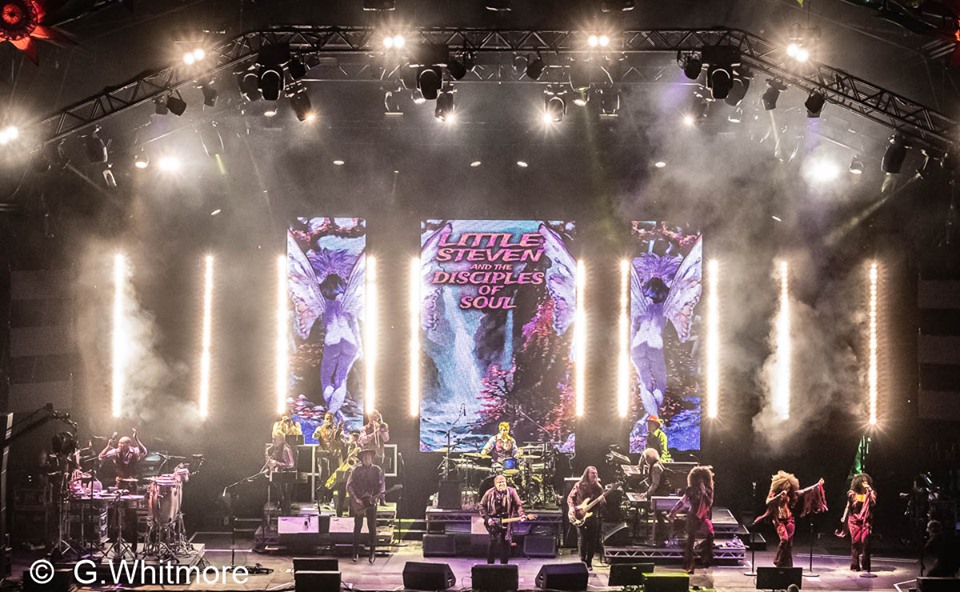 Now then... The big American bands tend to have a polish, a competency, a professionalism about them that you rarely see from their British counterparts. They are fully rehearsed and slick – they put on A SHOW. Little Steven And The Disciples Of Soul simply illustrated the point. With the set being filmed for future concert footage, the 15-piece band went the extra mile for colour, flamboyance, and dynamics. It was indeed wonderful. There is a soul-rock fusion mashup going down here that needs to be heard. One of the best headline shows this old wizened reviewer as witnessed for many a year. Cue fireworks, and Bearded Theory you did us proud.
So there you go. Another splendid Bearded Theory weekend. Oh, and weather was rather nice too. As we said up top – what's not to like?
Article and snaps by Barrie Dimond
Professional Photographs by the excellent Graham Whitmore.
Check out Graham's Bearded Theory Portfolio: Friday / Saturday / Sunday
Related Festival
---
Latest Festival News
---
---
---
---
---