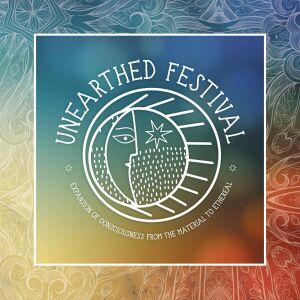 Yurt Field, Cerbid
Nr. St Davids
Pembrokeshire
SA62 6YE
United Kingdom
17th - 19th Jun 2022
Tickets for adults (with camping) from £125.00
---
Unearthed Festival 2022 Overview
Unearthed Festival is about unearthing something hidden within. Something that lies deep within us, sub language, sub thought, like an underground stream that connects us all and nourishes.
They are a festival that celebrates the expansion of consciousness through music and arts, talks and workshops, vegetarian food and community spirit.
Located in mystical Pembrokeshire, near St Davids in West Wales, the area is simply stunning. The music is as diverse as the audience, whilst talks range from topics such as lucid dreaming, sustainable construction, science and spirituality, birthing, . There is ceremony, various forms of yoga, meditation and chant as well as, film, comedy, kids activities, jamming around the fire, sauna and paddling pool, performing arts, massage and so much more to get involved with.
Within the context of the current geo political environment with threats of war, environmental destruction, generations of poverty and poor access to human shared assets such as health and education, Unearthed Festival is here to put down some thoughts and ideas about how we can do things better.
---
---