Saves the Day Interview at Leeds Festival
With Chris Conley (Vocals/Guitar) and Arun Bali (Guitar/Vocals)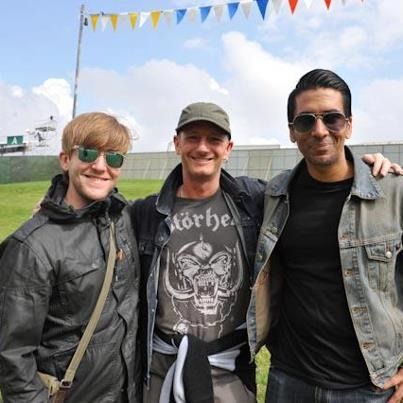 By Garry Urwin and Dave Hudsperth
Garry: Can you tell us a bit about your band.?
Chris and Arun: We've been around since 1997, and we're still going strong and making new records. We're a kind of emo/rock band that sounds like the foo fighters. We tour all the time so there's plenty of opportunity to come and see our live shows and we love to play. Introspective lyrics are a big part of our sound so if you're a fan of The Cure you might like Saves The Day.
Garry: What have you got coming up in the next few months? Is there a major tour?
Chris: We've been overseas for a week and have another week or so left. Then we go back home to start on a new album which will hopefully be recorded by the end of the year. We'll get it out sometime early next year and then back for more touring in the spring, hopefully.
Garry: Have you got a name for the album yet?
Chris: Not yet, but it's the eighth album. So far I call it Eight in my notes, until further notice.
Garry: Who does the songwriting for the group, or do you all contribute?
Chris: I create a skeleton/template, and then I bring it to the band and we bring it to life together. It consists of basic chords and melodies. It would just be an acoustic song by a campfire if it wasn't for the band thrashing it out and bringing it together.
Garry: I've noticed you've changed almost the full line-up of the band. Is there a reason for that?
Chris: Oh yeah! We've done it almost every year. I'm the only original member. We had three new members by the second album, and it just kept on going like that—people kept coming and going. A lot of younger musicians don't want to be told what to do, and I have a certain vision for the sound. I don't like it when I don't hear the sounds in my head, and a lot of people came and went because they didn't like to deal with that. They don't want to be told 'hey, this is how it sounds in my head', so that was one of the reasons there was constant change, but when I met Arun at the end of 2008, it was the first time I'd actually been on the same page as another musician. I wished he'd been with me the entire time, then it wouldn't have felt like it had been a struggle and more like fun. When we first started working on ideas together, it was absolutely perfect. This is perfect—this is Saves the Day. It's taken 12 years to get here.
Arun: The songwriting has evolved over the years as some musicians weren't going that way or didn't evolve in the same way, but we wanted to evolve, not in any intentional way, just with what we were feeling and wanted it to be a natural thing. We're all on the same wavelength. We're great friends and like being on the road together, it's fun.
Dave: It feels so good when you've worked hard and have finally achieved your goal.
Chris: It's the journey at the end of the day knowing you made a record you wanted to make, and you can sleep at night, but sometimes it's at a hefty cost. That's been a funny thing for the band, as we're a semi-prominent band and had many chances of making the mainstream. I just wanted to write music the way I wanted, and I think it was difficult for some of the guys in the band to not consciously produce hit music. I just wanted to write songs that came to me naturally, so that was hard. That's what Arun's talking about: we all just want to write the music we're excited about. It doesn't matter if it sells or not. We're not ones who stick with a formula.
Garry: As long as you enjoy it and the crowd.
Arun: Exactly!
Garry: Which bands do you want to see here today?
Chris: Well! The Cure; Antiflag are good friends; Paramore are also good friends and the Bouncing Souls are one of those bands I grew up with, really excited to share the stage with them.
Arun: It's amazing that we both went to see these as kids. The Bouncing Souls are the nicest dudes ever. I'm a big Blur fan and excited to see Graham Coxon. Some great music here. When we think of festivals, this is one is legendary. It's been around for years and to be a part of it, I'll never get over it.
Garry: You've been over here for a while now, do you ever get homesick?
Chris: Yeah, I miss home. My daughter has just started second grade, so I don't like being away from her, and it's hard for my wife, but her whole family lives in our town, so I can count on the support system she has. If I didn't have good friends in the band, it would be much harder. This is our fifth day in England. We came to Europe on August 15 and did a couple of German festivals and then a show in Amsterdam and then did a couple of UK headline shows leading up to Reading yesterday and Leeds today. We do a couple of more festivals in Wales, then Belgium, and then we go home.
Garry: Thank you for that guys!