Article
Running Wild Halloween special Posted on Fri 20th September 2013
Running Wild is set to bring a Halloween spectacular and all out mini-festival experience to the Electric Brixton, presenting mind-melting production and an uncompromising lineup that spans the likes of Catz N Dogz, Dark Sky, Deadboy, Toyboy & Robin, plus a very special guest yet to be announced.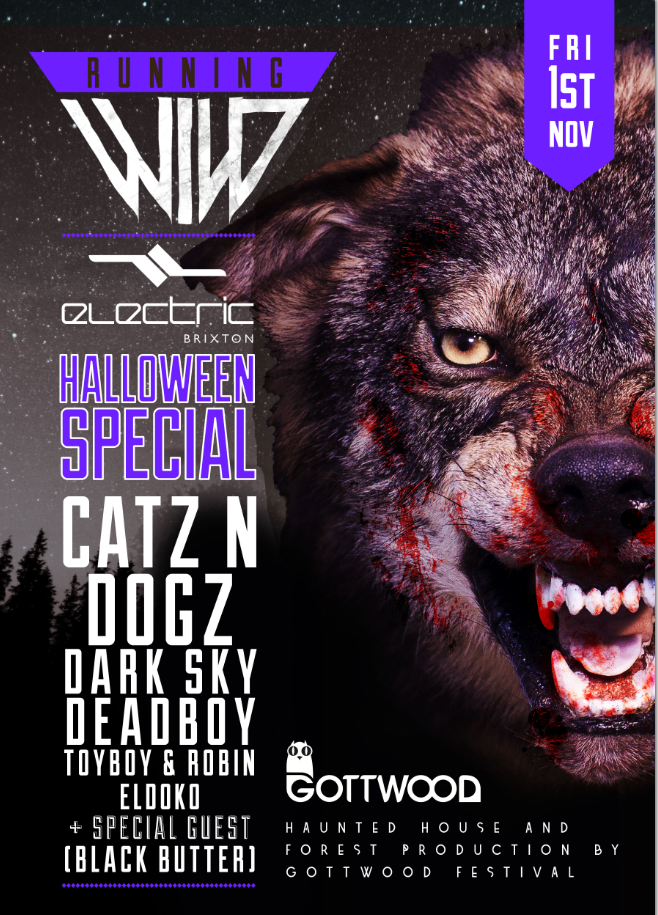 Set to transform the stunning Electric Brixton Gottwood Festival head up the production to create a haunted forest and frightful utopia, positioning Running Wild's Friday night ghoul-fest as much more than a typical Halloween club night. This is hard on the talent, but even bigger on the experience. Serving a lineup that nods to the very best across a delectable spectrum of house, garage, bass and everything in between, they invite you to explore their theatre festival with live graffiti from Secret Walls, an Oxfam fancy dress stall, face painting, scary dancers and a haunted house - it's the full spirit of Halloween!
---
Comment on this article
Last modified on: Tue 6th May 2014
Related Festivals
Featuring Artists
Dark Sky may refer to a collection of young Dubstep and Electronic producers formerly known as The Boogaloo Crew
Based in London, Deadboy is an underground Dj and producer. His sound is part of the new "UK Funky" movement, with the goal of
More Stories
Today Gottwood Festrival announced the launch of their Student DJ Competition. Looking to unearth keen new talent and offering
Gottwood Festival returns to Anglesey in Wales for another packed weekend of electronic music and experimental jiggery pokery.
Gottwood Festival returns // Early Bird tickets on sale now! Hypercolour // Louche // Tief // Wolf Music // Jaunt // Wigflex