Article
One love Festival Artist Time Table, Day Ticket Camping, VIP + Tony Tuff Posted on Thu 7th June 2012
10th – 12th August 2012 The UK's NO1 Reggae / Dub Festival
Hop Farm – Paddock Woods – TN12 6PY
After popular demand One Love Festival today has released its Artist Day by Day Timetable, Day Ticket Camping Pass and their VIP exclusive tickets plus Reggae Legend Tony Tuff to join what is looking to be the Event of the Summer.
Day by Day Artist Timetable - released
With a huge amount of requests coming from One Love festival fans - today One Love Festival released the day to day artist timetable over 1 month earlier then planned. For full day to day schedule details please go to clash finder
Day Ticket Camping Pass - released HERE
There's a Huge Buzz on this years Festival with Tickets in high demand. One Love Festival have release a £10 Camping Pass for Day Ticket holders to use all the Camping facilities and to stay entire weekend in campsite – Please note - Day Ticket Camping Pass is only valid when purchased Day Ticket.
VIP Tickets now on sale
Fancy a VIP weekend with Separate Que, to Party with the stars, AAA Access to backstage hospitality area, Access to VIP bar, watch Olympic big screen, with Separate VIP artist program and special exclusive performances + VIP viewing of main – ticket options now live
We are please to announce Tony Tuff is now booked for One Love festival 2012
Tony Tuff is a reggae singer who was a member of The African Brothers in the late 1960s and 1970s before embarking on a solo career. Tuff started his career in 1969 as a member of the vocal trio The African Brothers, along with Sugar Minott and Derrick "Bubbles" Howard. The African Brothers split up in the mid-1970s, and Tuff pursued other work outside music until he returned as a solo artist in the late 1970s, with the album Tony Tuff Meets Errol Schorder.He worked on several sound systems in the late 1970s and 1980s, including Lees Unlimited and Henry "Junjo" Lawes' Volcano system. Lawes also produced several successful singles by Tuff including "Water Pumpee", and "Mix Me Down" recently recorded with Jah Shaka. He touring Europe twice before touring Canada and the United States.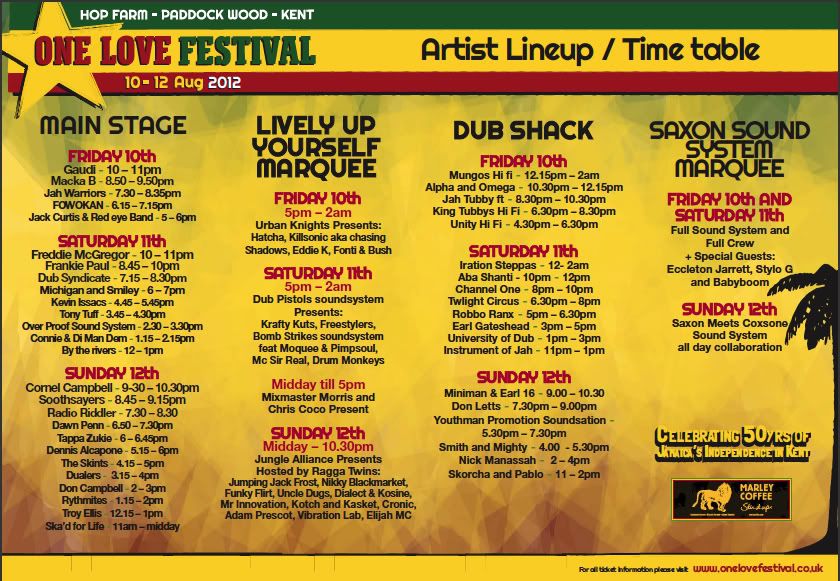 ---
Comment on this article
Last modified on: Tue 6th May 2014
Related Festivals
Featuring Artists
Reggae singer Tony Tuff, born Winston Morris in 1955 in Jamaica. He start recording with African Brothers. After group broke