Fairport Convention Interview for Cropredy 2022
Social Links
Festivals For All were blessed to be able to chat with Fairport Convention stalwarts Simon Nicol, Dave Pegg (Peggy), and Chris Leslie in a wide ranging discussion about the forthcoming Cropredy Festival 2022, and what the future may hold, given that we live in, er, Interesting Times!
On how Cropredy and the wider folk festival scene may change over the next few years:
Rest assured that Cropredy has a future, but the ongoing Pandemic and spiralling costs, which look likely to be with us for the foreseeable future, will certainly impact Cropredy, and indeed the wider festival scene. Like most involved in the business, the guys were concerned, both with how this year will pan out, and what the future may hold.
Simon "We are all having to learn things over again. In the two and half years of lockdown people have forgotten how to do it. I'm not just talking about musicians presenting a show and relating to each other on stage – the audiences have forgotten how to behave themselves (laughs). This is all unexpected – behaviours that were once engrained, now, there is a certain degree of caution. But to me, there is so much joy, created in a unique way by the festival, that people will try and get back to it, and I'm sure we'll see that develop over the course of the three days of the festival."
Peggy added "I've been doing this for 40 years of my life, and obviously everything changes. It's a bit of a test case to see how this year will evolve, and see how people behave and what their reaction is to our event. We've always had a very hard-core loyal following of people, which we've built up over those 40 odd years… and its generational – three generations of people come to Cropredy. I'm sure that next year we will have another festival, but how it actually works out I don't know, because this year is a bit of a test case. We always hope that there will be another Cropredy festival, and we hope that we'll all be around to play at it (laughs)."
Chris chipped in "It was a very strange thing to miss Cropredy for one year, to miss it for two was a very odd situation, but I'm so glad we did get together and do the broadcast show in the garden of the Brasenose. That, for me, was very invigorating and it gave a focus again, after nearly two years of not being able to do what we do... which is hopefully to give people some joy and play some music…. It was great, it was like a coming out of the wilderness."
Like many festivals, Cropredy has been hit with the double whammy of roll-over tickets sold at a two-year-old pricing model, and the multitude of factors causing rampant inflation in 2022 and beyond. Simon summed up the concern "… the pricing of the festival was set in 2019… many things in the world have changed, and financially it's a runaway situation, it's like a forest fire, inflation… What people may not appreciate, as an example, is that Red Diesel no longer has the same VAT treatment… the electrical generation at Cropredy has risen from about 60p/l to around £2/l, so just to keep the lights on at the festival and around the fields is going to cost us four times what we thought it would cost us… All this will affect future ticket price. It's the same for everyone of course. Even if you ignore the other inflationary pressures – this year will be a very cheap ticket! It's our costs that will drive the future price up – it's not us being greedy"
On Covid:
Simon again "We are just going to ask people to be sensible – it's all we can do. We've now got to the point where Covid is with us forever and we're going to have to learn to live with it, and adapt to it…. I've already lost my covid virginity" (laughter)
On presenting the Full House album in its entirety at Cropredy 2022:
Peggy kicked off a lively discussion as the guys clearly relish this moment "For me, to be playing the Full House album is incredibly important. It's the first album that I played on… and having Chris adopt Dave Swarbrick's role is going to be very special because it means so much to us… there is a great friend I know who can't stop his twelve-year-old son from playing the Full House album. If a 12-year-old kid is getting off on it – imagine what it's like for a 74-year-old bass player!"
When asked about the frequency songs from the album have been played over the years, Peggy commented: "There are things on it that have not been played for years – for instance 'Flowers Of the Forest', we've probably played it once since the 1970's… so that's going to be interesting. It's all going to be very exciting. Chris Leslie will be playing them as a violinist, as opposed to, in the current line-up, playing the mandolin, so it's going to be interesting to see how Chris tackles it!"
Chris raised a big laugh when he admitted he didn't initially know too much about the album until recently. "Well, I actually went out and bought a copy!" He continued "I'm of course very touched to be a very small part of trying to represent it again live – which should be great". When asked how he felt about stepping into Swarbs shoes, he said they are unfillable, but that he did play with him for five years in a band called Whippersnapper, and was very influenced by him when he started playing the fiddle. "…so I think I have a feel for his approach, and although I've developed by own style over the years, there is part of him in my playing. I hope I can bring his spirit back to the sound". Simon expanded on the theme, saying "…it's very interesting tackling a record in its entirety, As, A/ we haven't don't that one, and B/ a lot of the songs on that record have never really gone away. It's a mixture of the familiar and the refreshingly unfamiliar. There are songs like 'Walk Awhile' which has always been our opener, often as not, and playing that is almost like falling off a log, whereas with say 'The Flowers of the Forest', it's something I'm really looking forward to – cos I get to sit down for that" (laughs). Peggy was asked how the album is likely to be presented at this years' Cropredy "We'll be playing a 2hr 40 min set and Full House will be incorporated in that. It will start off with the current line up and then we'll get the likes of Dave Mattacks on stage with Gerry…and then take the set from there (with line-up changes and people guesting) … it's will be great to have two drummers – it will be like stereo for me… if only I could turn my head round that far!" (laughs). For effect, Peggy then threw in that the album is available in many formats and that he does indeed possess a rare 8 track cartridge of it!
On any personal favourites in the 2022 Cropredy line up:
Simon set the scene "… Remember that we only book bands we really like, the audience has to trust our likes and judgements, we would never book anyone just because we thought they would sell tickets… I personally can't get enough of Trevor Horn…you never know what's coming next; and its always immaculately performed. It's just perfect… I'm also looking forwards to the Bar Steward Sons of Val Doonican". Peggy agreed regarding anticipation for the Trevor Horn set; "… being a bass player I listen to every band at Cropredy, and the best ever bass sound I've heard in that field is Trevor Horn. He gave me his plectrum once, but then I went to the bar and don't know what happened to it!" Chris had a different favourite "… for me it's Clannad… I've never heard them live and that ethereal sound floating over the Cropredy field will be quite something. I'm sure Mist will start to come in and it will get all Arthurian! " (laughs)
On keeping most of the line up together after a two-year hiatus, and whether Fairport have any new material in the pipeline:
Simon summed it all up "…there is a certain loyalty surrounding Cropredy, not just from the audience. But from the Crew, Volunteers, and the Performers. Everyone finds something in it that draws them back." All eyes turned to Chris regarding new songs, and its encouraging when he said "… there are a few songs bubbling away and maybe next year we will try and get a recording down… There are things on the go, and of course, Ric is always writing instrumental for us. I know he's got a few."
On those we have lost since the last Cropredy and how they will be remembered:
Simon explained that whilst the song has many meanings, some not originally envisaged when the song was written back in the 60's, "Meet On The Ledge – reflects how friendships transcend that rainbow bridge and people live on in your hearts… we all have a moment to think about that when we're singing together…. Everybody knows, if they have been there with their friends, year after year, and shared that common experience together… that if somebody has made their last visit, and everybody else is carrying on, then they bring a little of that person with them.
Chris reiterated the sentiment when he added "I know myself from Maartin Allcock's last appearance at Cropredy… he gave me a plectrum and that's always in my box, and wherever I go, it's there. It always makes me smile."
So there you go. FFA hopes the above has wetted your appetite for what promises to be a very special Cropredy indeed. There are more details HERE, and there is still some ticket availability for Cropredy 2022 HERE.
Article by Barrie Dimond
Images by Simon Duckerley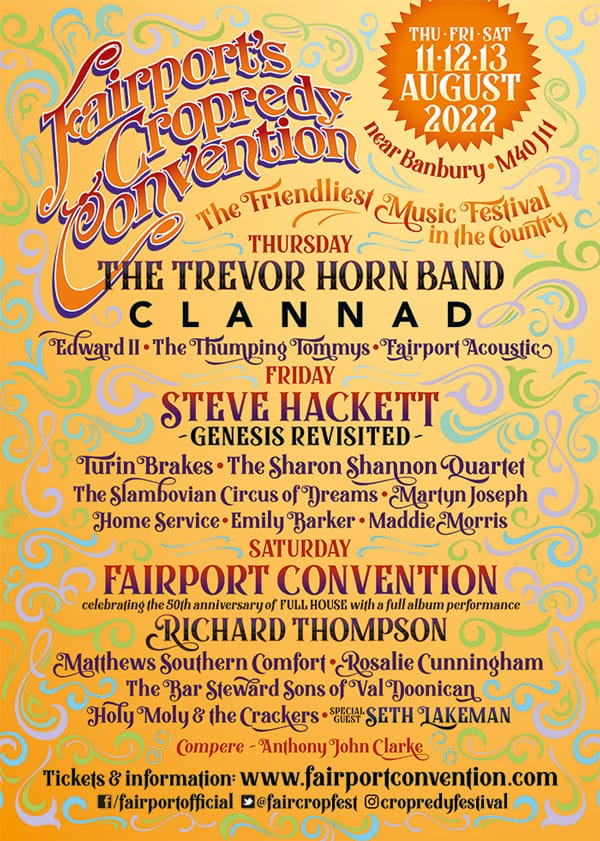 Related Festival
---
Latest Festival News
---
---
---
---
---