Eden Festival Review 2013
Social Links
Eden Festival 2014

11th - 14th Jun 2014
Raehills Meadows, St Anns, Dumfries and Galloway, DG11 1HQ, United Kingdom

Tickets for adults (with camping) from £95.00

I found the Garden of EDEN! This place of great happiness safely snuggled in Raehills Meadow (Nr Moffat) in the stunning Dumfries & Galloway countryside. I am queuing for next year already; a longer trip this time to explore and absorb the beauty of the D&G land and its wonderful welcoming people.
Well organised layout, easy to find everything, the program running to time, children are welcome and safe here as well as fully entertained, especially by Spinning Jenny's Shennanigans. The easily spotted 'happy to be here' Marshalls were relaxed, knowledgeable and helpful. The campsite was clean with running water and guide me home lights. Even the toilets were still clean on Sunday afternoon!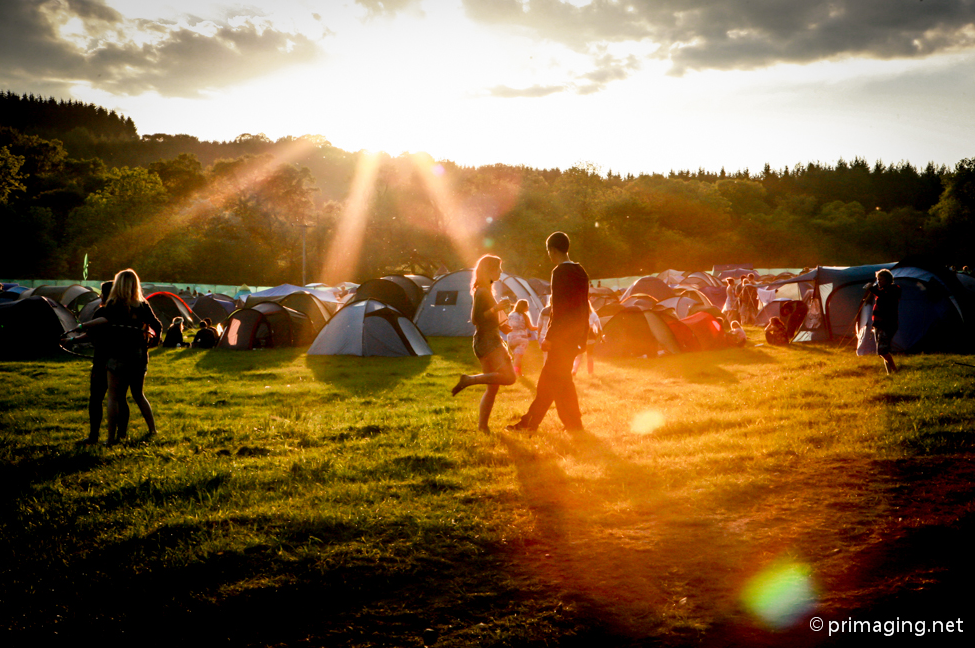 I could rattle on about each act, but so many to comment on and all well received by the crowd. Rabbie's Tavern was a' jiggin' throughout the weekend and serving pints of Galloway's finest at the best festival price I've ever paid!
The quirky character of Eden starts right inside the door with Glass Haze and their firey, candy cane themed smoking accessories; everyone should have one! As we move on in to this quirky playground we are passed by the Rimski piano bicycle with the cart-wheeling, music-hall influenced pianist, topped n tailed and steering with, well, his behind!
The theatre look continued with dreadlocks galore; was Lauren at Dread Funky that busy this weekend? Street theatre entertained us with The Grannies; a bunch of old dears a bit out of their depth having stumbled into a festival by mistake – utterly entertaining!
Friday night on the Devorgilla main stage saw the ever popular Slamboree; a show on fire! Psychedelia with a hint of Swing, underpinned with a Celtic twang led through with Rap and a floorshow of hoola, juggling and dance. This energetic crew know how to excite their crowd and deliver a nonpareil visual stimulation. Slightly later - after watershed - Shy FX and Stamina MC hit the stage with their visual delight of Jungle Garage fit for many a club, but what was unique here was watching their Video being made on stage by VJ Baba & the slight bondage theme that allowed your imagination to connect more fully to this hot and firey show! Meanwhile Shakti Mama Disco Diva was in her army truck in the Furry Chillum tent taking us back to the cheesy 70's!
All weekend the Cycle powered stage provided by Chain Reaction Power Systems pulled the crowds to its interactive floor show. Who was watching who? If you were there you know!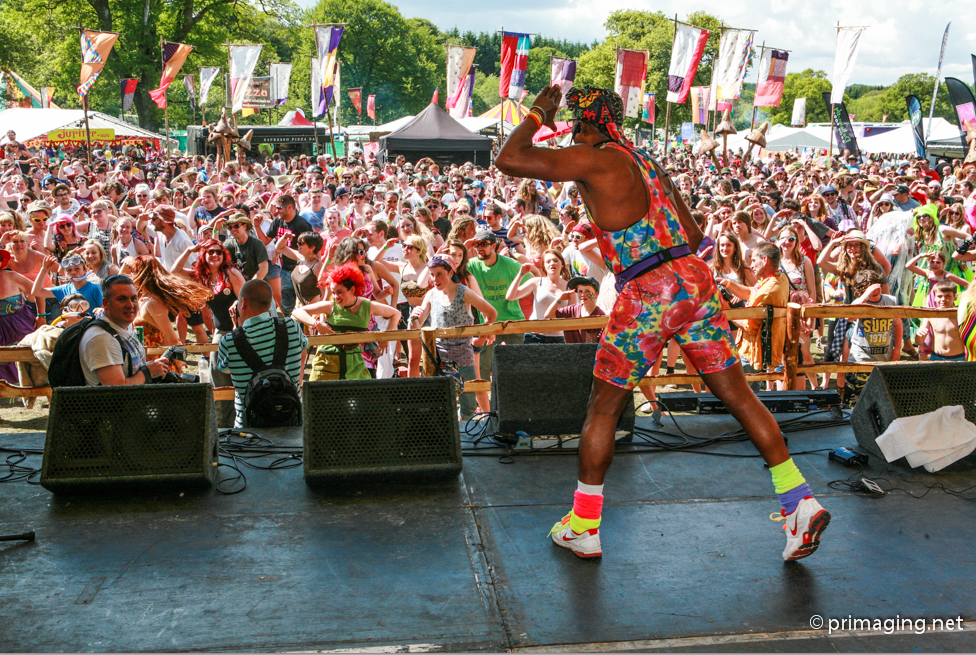 Mr Motivator pulled the crowd for a sunny Saturday afternoon workout, the crowd moved in unison sharing the world's BIGGEST ever smile – no wander Mr Motivator is motivated, looking out at such happiness. Closely followed by the crowd cooler paint powder fight!
Saturday night though was highlighted by Bristol based James Sprocket's Live show in the Voltan Temple with his mixin' up of Psychedelic Trance 'forest style'; that primal base you can't fail to connect with - chillmazing! One to watch for!
Sunday's atmosphere was more subdued and Mr B & The Gentlemen Rhymer joined in with their mellow music and tales of woe and lost love. Did anyone want to go home? No! The tropical Scottish weather added an air of freedom to the merriment that is Eden and the spirit of this land. The camp fire was a place to chat and make chums as you throw another log on the fire. Especially welcome late at night when the temperature cooled. The Vishnu Lounge was also a place to meet and dance to the cool vibes of popular chart music, with children suspended in low slung hammocks, friends reflecting on their weekend; everyone so relaxed no chamomile tea required!
Eden could not be hosted by a more apt area of Scotland; there is definitely something special up here, no wander I overdosed on smiling this weekend; bring on next year!
Review: Susie Jamieson
Photos: Pete Robinson
Related Festival
---
Latest Festival News
---
---
---
---
---