Don Broco Interview at Leeds Festival
With Rob Damiani (singer) and Tom Doyle (Bassist)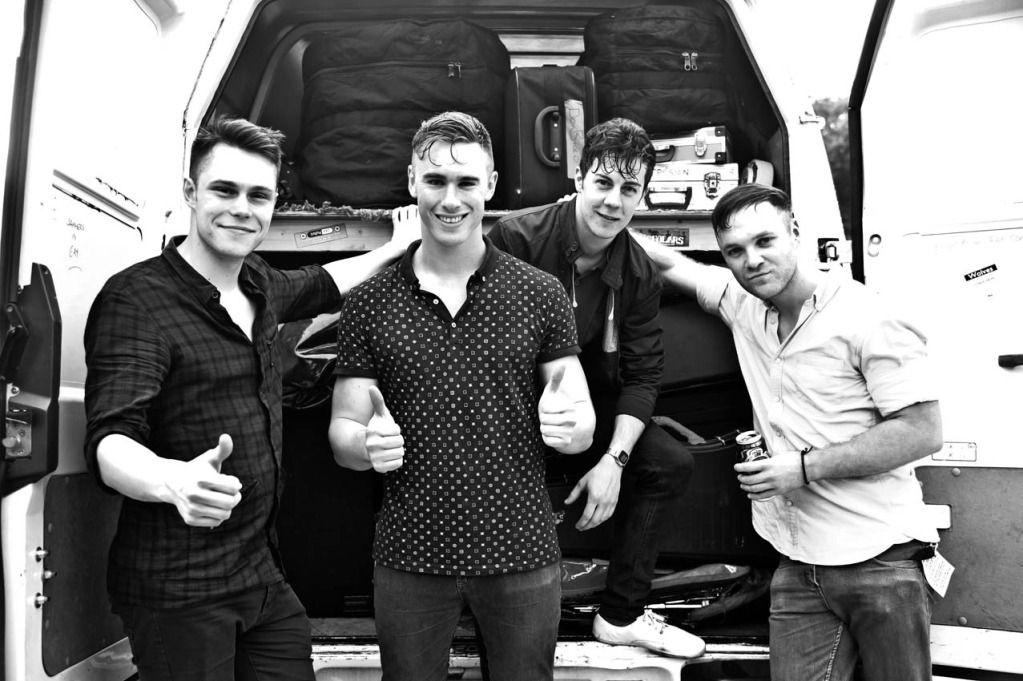 By Garry Urwin and Dave Hudsperth
Garry: Can you tell us a little bit about your band, for people who don't know you?
Rob: We are Don Broco from Bedford, north of London. We play alternative high-energy rock music. We have a lot of stuff going on, so we'd advise you to check us out if you can.
Dave: Have you got an album coming out in the near future?
Tom and Rob: Yeah, our debut album came out two weeks ago on August 13th. It's called 'Priorities'. It's available everywhere in all good record shops. We were fortunate to be charted, and it got to number 25 in the first week and No 1 in the rock charts, so we're chuffed with that, very chuffed.
Garry: Who is the main songwriter or do you all contribute?
Rob: Yeah, we all chip in. It starts with sort of a riff, and we throw down a few melodies, then sort it from there. We chop and change a bit, and by the time it has got to the studio, it's all changed again, and we have a song at the end of it. It is a real communal effort.
Garry: Which bands have influenced you the most?
Rob and Tom: All sorts. I'd say sort of old-school Incubus and Biffy Clyro. Bands who like to rock and who are intelligent with their music.
Garry: Which bands are you hoping to see here?
Rob: I'd quite like to see Lower Than Atlantis. We're going on tour with them in October, all over the UK, so they'll be good to see.
Garry: Is it a full UK tour?
Rob: Yeah, then back to Leeds, in the second week of the tour. In the first week of October we're going everywhere which should be good, and we're also going to Newcastle.
Garry and Dave: We'll try and catch up with you in Newcastle.
Rob: Awesome!
Dave: What is your best rock and roll story?
Tom: This is difficult, as we don't yet have a good one to tell yet.
Rob: We're still quite a new band, and we still need to find our rock and roll story. If anyone out there wants to make it happen, then come and find us in October.
Garry: What's the strangest/weirdest gig you've ever played?
Rob: We were talking about this the other day. There was one when we first started, in Barnsley. It was the third gig we'd done as a band, and no one came to see us at the previous two shows. When we got to Barnsley, there were people waiting to see us, which was a bit of a shock. Someone found out about us on 'MySpace' and brought all their friends to the gig. Everyone had a great time, and half way through the set, the people who'd come to see us apologised because they had to leave, as the barman had been throwing peanuts at them all night and were fed up with it. When we looked, we saw the barman was leaning across the bar absolutely hammered throwing peanuts at all his customers. We were upset they were all leaving but quite amused at the same time.
Garry: What do you do to chill out after your gigs?
Tom: We get the gear packed away first, then we have a few beers, relax a little bit, and then just kick it back, have a breakdown chat about the show, and ask each other how it all went. We also watch as many other bands as we can.