Deer Shed is a place to make memories that you will cherish forever
Deer Shed Festival 2019 Review
Social Links
Deer Shed Festival 2020

24th - 26th Jul 2020
Baldersby Park, Topcliffe, North Yorkshire, YO7 3BZ, United Kingdom

Tickets for adults (with camping) from £140.00

To say that we were excited for Deer Sheds 10th Birthday would be an understatement. We've been coming here as a family for 9 years, our now 15 year old daughter has grown up in the fields of Baldersby Park, going from making crafts, to building robots and now listening to poetry and spoken word. We've seen lots of changes over the years, as it has grown and evolved, changed with our families festival needs. It has also gone from a single day festival (with camping either side) to the full 3 days it was this year. More stages have been added and more activities to cater for the growing interests of the continuously increasing festival goers who flock to North Yorkshire (this year seeing it sell out again for a 2nd year in a row). But the most important thing about the 10 changing years of Deer Shed is that it never lost sight of what is important, the family. That doesn't mean just focusing on keeping the kids happy, the families that come to Deer Shed range from new born babies to Grandparents and here all their interests and needs are catered for.
Penelope Isles on In The Dock Stage proved to be a perfect start to a festival, relaxing and uplifting in equal measures with their melodic vocals and rock/pop guitars. My biggest joy of Deer Shed is how many new musical acts we discover and Penelope Isles is definitely on this years list.
Another new discovery was Gently Tender on the Main Stage, just a conveniently quick walk down the hill from In The Dock Stage. Gently Tender, a London-based five piece a beautifully soulful and folky sound, with just a dash of psychedelic pop, to get you moving to the music.
We don't just go to Deer Shed for the music, the family friendly comedy is also a favourite of ours, so we headed off to the Big Top to check out the comedy and got there just in time for Raymond and Mr Timkins, who's chaotic blend of quick musical edits and clever choreography had us all captivated to see where their performance would go next.
In true British Summer style Saturday was wet, very wet, but thankfully not continuously, there were short breaks in the rain. But we couldn't let a bit of rain stop us having fun so we headed out early to see our friend Paul Jenkins grace the stage of Studio with his hilarious wobbly words that had all the kids (and some adults) rolling around the floor. Who doesn't love a poem about farting?
Lauren Hibberd had been doing her sound check on the main stage earlier in the morning and had amassed quite a crowd, who even went as far as applauding, to which she responded "Thanks, but it was just a soundcheck!" That made her a definite must see and her full set didn't disappoint. Her unique and witty indie pop drew in a good crowd for an opening slot on a rainy Saturday. There is something nice about dancing in the rain at a festival and Lauren Hibberd really got us dancing.
A great thing about Deer Shed is you get to try things you wouldn't normally do, this year we really embraced our inner extravert, firstly with a bit of singing with Becky Owens Pop Up Choir and secondly, joining in with the Walkabout Headphone Rave around the fields of Deer Shed. Not known for our vocal talents we were skilfully guided by the fantastically talented Becky Owens, who within an hour managed to make a disparate group of 30 people sound like they knew how to sing and could hold a note. We could have spent all day there singing!
Now our dancing skills are pretty much on par with our singing, but that didn't stop us donning our headphones and following two very energetic dance instructors around the fields. I think the word Rave is used rather loosely here, I know it was a while ago but I don't think we ever 'raved' to We Like To Party by The Vengaboys!! But that didn't stop us attempting to follow the moving parade around the fields outside the Big Top. We smiled a lot and as did everyone who watched on.
By the time Sunflower Beam's slot came around we'd got well and truly used to the rain, but the energy and incredible vocals of lead singer Julia Cumming coupled with the band's blend of the coolest rock sounds soon had us forgetting the weather and smiling and dancing like we were under a glorious sunny sky. They were definitely one of the highlights of the festival for us.
Heading to the Big Top to get out of the rain we thankfully and happily found Milton Jones finishing off the Saturday evening comedy. We can whole heartedly say that Milton Jones is by far the funniest and cleverest comedians we've ever seen. With one line gag after one line gag the tent erupted with laughter. Our only regret was that he wasn't on for longer.
We have to admit that the draw of K.O.G and the Zongo Brigade was mainly the name than anything else. We'd not heard of them before but with words like high-energy and mass dancing party in the programme what's not to love? Not only were they our favourite band of Deer Shed 10 but possibly of all our last 9 Deer Sheds. The Lodge Stage tent was truly jumping, if anyone had felt down about the relentless rain it wasn't showing now. The catchy and infectious afro-beat, funky, rock tunes just kept coming building the huge crowd into a dancing frenzy. This was a mass dance party and not one I'll ever forget.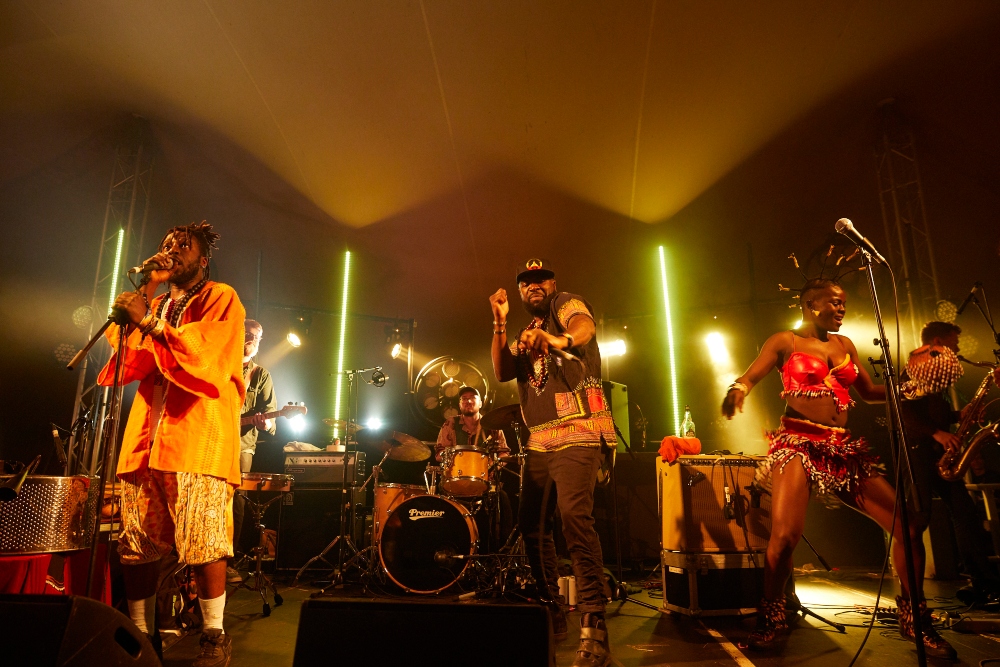 As we mentioned before, the festival has grown with our daughter. We went for the first time when she was 6 and not once has she uttered the words "I am bored", which must mean it is a big winner. Last year was the first year she truly began to go off on her own and explore the festival, at this point she began to fall in love with spoken word and poetry. This year she spent most of her time in the Book End Stage listening to a variety of shows such as Poetry Hour which put on show a diverse range of spoken word artist and poets. As well as that, she went to see The Scummy Mummy Podcast which provided laugh out loud entertainment for all, especially the parents who seemed to find it all too relatable. Outside of the Book End Tent, she seemed to spend most of the time in The Wilder Wild where there was a wide range of crafts from a wand making workshop to toiletry making. She especially seemed to enjoy Darn It! Workshops which she went to every day to try out their wide variety of hands on workshops including metal embossing to make a bracelet and concrete mini plant pot decorating.
As well as the all shows and laugh out load comedy, we were blown away by the festivals improved environmental ethos to try and reduce waste. This year they developed the previous re-usable cup scheme to include hot drinks cups and also banned all food stalls from using single use plastic such as cutlery and take out boxes. Not only this, but they also had an incredible recycling scheme that allowed for things such as tents and batteries to be recycled. Overall, we can definitely say Deer Shed is a festival that is thinking for the future.
By Sunday the rain had receded, and despite the valiant and continuous efforts of the DeerShed crews it was a bit muddy in places, but nothing that wellies or boots couldn't easily handle.
We started our day's events at The Lodge Stage with Akala in conversation with Jeffrey Boakye, which was a highly captivating, informative and entertaining Q&A session. Akala is known for his critical cultural thinking and straight talking on race, class, education, identity and politics in Britain and around the world today, and his approach of sharing of personal stories and experiences really brought his ideas and arguments in to the real world.
We had heard Pip Blom on 6 music a few times and once said they sound like a band that would be on at Deer Shed! Well here they were and it is without a doubt where they belong. The Dutch-Indie pop band captivated the audience with their invigorating energy and enthusiasm, sometimes reminiscent of The Breeders and The Pixies. They were great fun to watch on a Saturday afternoon.
Our most anticipated act of this years Deer Shed was She Drew the Gun. The bands entrancing psych-pop is perfectly suited the intimate In The Dock Stage. Their growing success was evident by the crowd that filled the tent and Louisa Roach's energy had the whole tent both captivated and energized. With their strong political themes this is the kind of music we want our daughter to listen to.
After hearing about Akala's incredible work and perspective of our world, we couldn't wait to hear some of his hip-hop tracks that have helped pave the way for a new wave of commercial UK raps stars like Skepta and Stormzy. It's fair to say his powerful and fast pace words had everyone bouncing up and down. Playing a wide range of songs all the way back to his debut album in 2006 the topics still resonated hard with all who watched.
Sunday night close was a tough decision for us, Ezra Furman or Smoove and Turrell Silent Disco. It actually wasn't that tough at all, we are huge fans of Smoove and Turrell so we head to In The Dock Stage for some closing party funk and soul. Expecting good tunes, which we definitely got, we were delighted to be entertained by the soulful vocals of John Turrell while Smoove played their back tracks. A fantastic treat to end a fantastic festival.
So despite the rain and the mud Deer Shed 10 was a huge success for us and a fantastic 10th Birthday celebration. There is no doubt that we will be back for Deer Shed 11 and to celebrate our 10th year. We will continue to tell everyone we meet, Deer Shed is the best family festival in the UK, Deer Shed is a place to make memories that you will cherish forever.
Article by: Charlie Greenwood
Photos courtesy of Deer Shed Festival
Related Festival
---
Latest Festival News
---
---
---
---
---