Deer Shed 6 Review 2015
Deer Shed is a fantastic place for families to have their first taste of a music festival
Social Links
Deer Shed Festival 2015

24th - 26th Jul 2015
Baldersby Park, Topcliffe, North Yorkshire, YO7 3BZ, United Kingdom

Unknown

Tickets for Deer Shed 6 sold out 7 weeks ahead of the festival weekend, a first in its 6 year history. With a line-up that boasts John Grant, Billy Bragg, The Unthanks, Villages and Dutch Uncles it's not hard to see why. But an added draw of Deer Shed is the amazing value, an early bird adult weekend ticket costing only £89!!
Deer Shed is a fantastic place for families to have their first taste of a music festival, not too big but with spacious camping, impeccably clean toilets, showers at a small charge, food to satisfy both the discerning and the fussy, and so much entertainment you could fill two weekends!
When all that is coupled with the broad musical line up of Deer Shed 6 then you it's easy to see why this is a festival that people visit year after year.
We started Friday's line-up with Palace, who opened the festival and drew a crowd eager to get their festival going and Palace certainly did the job. Next we caught Diagrams, and their mix of folk and futuristic synth flourishes showed that Deer Shed are not afraid to experiment with their line up. One of Friday's big draws for a lot of people we met was Black Rivers, and it was a little surprising they were listed for one of the festival's smaller stages, but by all accounts this added to the intimacy and power of the band's performance.
For us The Felice Brothers were the highlight of Friday, and as Deer Shed was their final gig of their UK tour they were committed to finish on a high. Their engaging and energetic set of Americana roots music had the main stage crowd, young and old, up and on their feet from the start. The Felice Brothers are certainly one of the bands we'll be looking into more.
Billy Bragg's headline slot closed Friday night and Billy ensured that we went back to our tent still toe tapping and signing along to the plethora of songs he performed, ranging from Woody Guthrie covers, some classic Bragg political tracks, to more personal songs from his latest album. With his in between song banter and ability to entrance the crowd for over an hour with just his voice and a guitar, Billy showed what an exceptional live act he still is.
The first act we watched on Saturday was Robyn Sherwell and her delicate performance and dreamy mix of pop and R&B was a lovely start to a full day's music and fun. Other acts we caught that Saturday afternoon were Lisa O'Neill, Shopping, and The Hinds – all further evidencing Deer Shed's commitment to support a wide sphere of burgeoning talent from across genres and styles.
As with Friday, Saturday had more than just the headline act to pull in the crowds, and the early evening slot for The Wedding Present drew in so many people that the crowd spilled out to the surrounding food stalls, resulting in some congestion that may have been avoided if they'd performed on one of the bigger stages.
John Grant headlined Saturday and opened his blissful set with his current song 'Marz' which sounded exquisite echoing across the main stage, and John continued his whole performance at this high level leaving us feeling blissed out and floaty on our return to the camp site.
For previous Deer Sheds Sunday has been a low key day with a few performances and an early afternoon finish, but this year Deer Shed has expanded the line up to run all day and this certainly kept the festival fun lasting longer for us. After a morning decamping, we spent our precious last few hours enjoying Eliza Shaddad, SeaFret, and finished our festival with the dynamic and energetic performance from Ibibio Sound Machine – their mix of African beats with electro and funk meant we finished on a high and left the festival dancing.
Music aside Deer Shed at its heart is a family festival and everyone with children knows that to enjoy a festival the kids need to be entertained and happy. I defy any child at Deer Shed to say they are bored, the array of activities is astounding, literally something for all interests, science, art, sports and dance.
The science tent is a site to behold with over 25 different activities for all ages, some of our favourites were programming robots with Robgals; Starlab with their cosmodome, a blacked out tent with a 180 degree projection inside (try as we might we didn't managed to get to go inside, it was booked up very early in the morning); Raspberry Pi 2, which my daughter adored and is now after her own Raspberry Pi; and Team Green Screen, allowing children to get projected in to all kinds of aerial scenes, keeping with the Up in the Air Theme (can't get enough of the video of my daughter flying through space as a super hero!)
But if science isn't your child's thing don't worry, there were an equal number of workshops to get involved in, everything from crafts to cloud identification to DJ workshops. But it doesn't end there, the activities keep coming, music workshops, dancing, circus skills, sports field and our personal favourite Quidich (using the broom sticks made in the broom stick workshop, with human as snitches!!) I think Deer Shed might have to consider adding another day to get everything in.
Food has become a big part of any festival, gone are the day where you can only get a greasy burger, festival goers demand more variety and quality. You have to admire Deer Shed for resisting the urge to go corporate, all food stalls are independent, good value for money and great family food. Special mentions should go to Fish Finger Heaven who offered potato waffles with their fish fingers, what child (and some adults) can resist that and Yakumama, had the most amazing potato and sweet potato chips ever.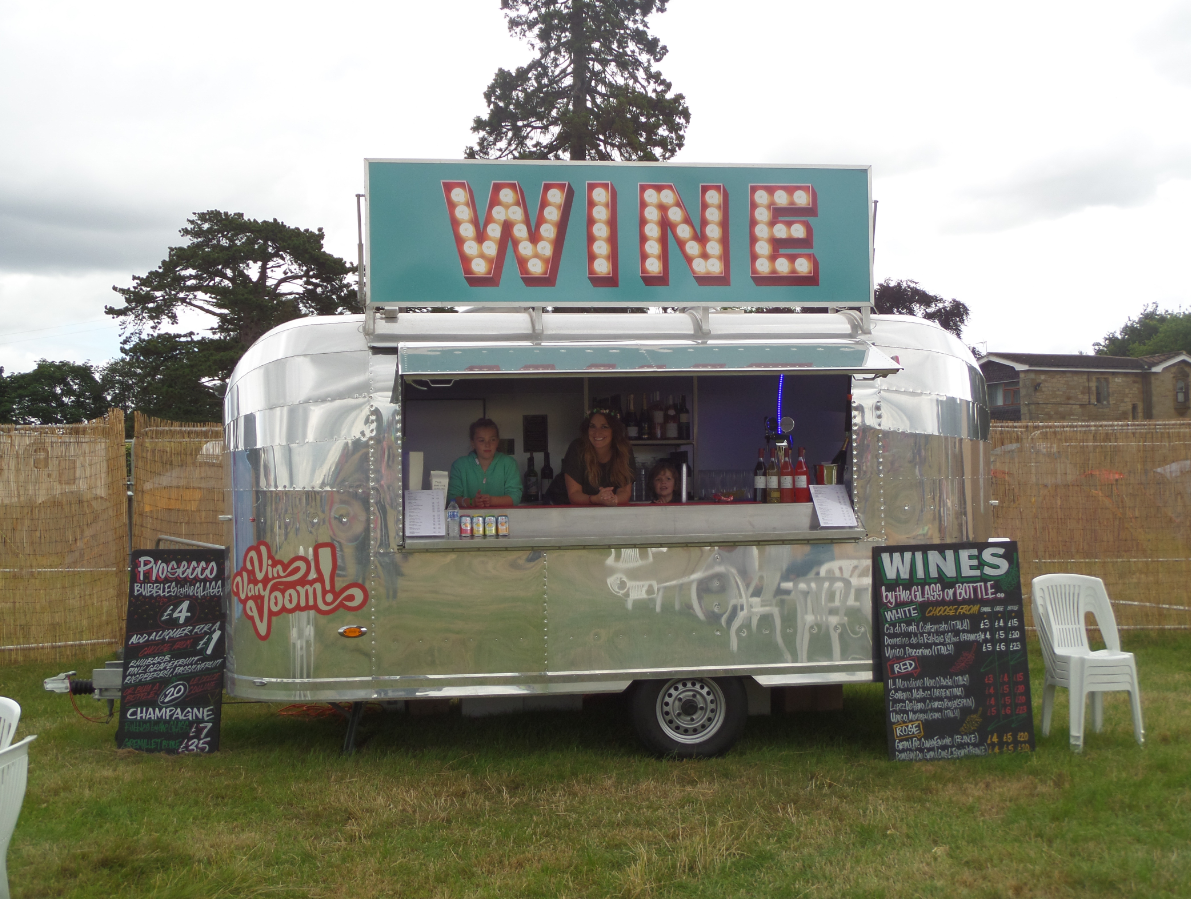 As for drink, Deer Shed got bigger and better this year. The festival bars always have a great selection of real ales, cider and spirits at a fantastic price but this year we were in our element with the addition of Vin Van Voom and Sloemotion. Vin Van Voom offered an amazing array of wines, including my favourite prosecco, served in plastic champagne flutes, rather than the usual horrible plastic tumbler, which made it all the more special. If a glass wasn't enough they also offered a bottle of wine decanted into a carton, at what I would consider a reasonable price for a festival. On the Saturday during a rather heavy downpour we were lucky enough to find ourselves very close to the Sloemotion cocktail tent, it would be rude to not partake in a cocktail when sheltering from the rain, and boy we were we glad we did. We tried Sloemotion No7, 'a Gin-spirited blend of hedgerow, orchard and field fruits together with hedgerow blossom and herb' served over fruit with lemonade and it was delicious, a lovely bit of summer of a rather dull afternoon. Won't lie and say we stopped at one, went back a number of times over the weekend.
So in all with such fantastic music, kid's entertainment, fine food and delicious drinks this family had an 'epic' festival that wasn't dampened by the occasional rain shower.
Early bird tickets for Deer Shed 7 go on sale on Monday 14th September, I urge anyone with a love of live music and kids that love to have fun to get their tickets fast, I have no doubt next year will be a sell out again.
Review: Charlie Greenwood
Related Festival
---
Latest Festival News
---
---
---
---
---