Camp Bestival: 100s of Free Things For Kids revealed
Social Links
Camp Bestival 2012

25th - 28th Jul 2012
Lulworth Castle, East Lulworth, Dorset, BH20 5QS, United Kingdom

Unknown

Camp Bestival, 26th to 29th July 2012 - Lulworth Castle, Dorset

100s OF FREE THINGS FOR KIDS REVEALED!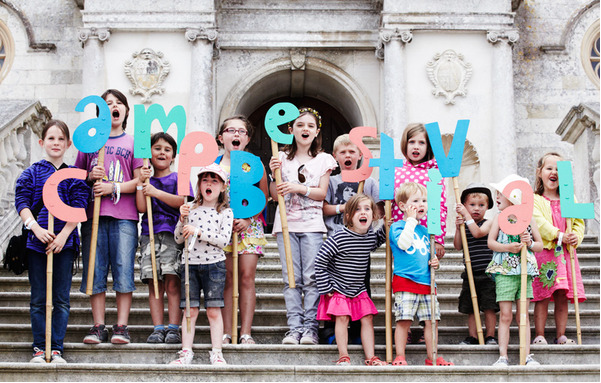 With just 35 sleeps to go until we throw open the gates of Lulworth Castle for our fifth Camp Bestival, we're all aquiver as excitement builds to fever pitch and Josie & Rob da Bank and their trusty crew put the final touches to the ultimate family festi-holiday experience. As well as a wealth of wondrous music from the likes of Happy Mondays, Hot Chip and our Saturday Night Fever disco extravaganza with Kool and the Gang and Chic, plus Rolf Harris and Rizzle Kicks to boot we also have a staggering array of magical treats with 100s of Free Things for Kids, that will keep your young whippersnappers smiling all day long!

Rob da Bank says: "I can't believe how much amazing stuff there is to do at Camp Bestival this year! From bouncy castles to UV bubble bikes and beyond you won't know which way to turn but you'll never run out of fun!"

There really is so much to do at Camp Bestival you'll be spoilt rotten for choice every single day. Some of the major highlights of this year's 100s of Free Things for Kids include:

1. Camp Bestival Panto - we're thrilled to be presenting our first ever panto; 'Beauti and the Beast of Lulworth Castle'.
2. Comedy Club 4 Kids – Otter-ly fantastic comedy just for the kids!
3. Daemon or Doppelganger? – The brilliant clay self-portrait workshops return to Camp Bestival for the fourth year to give you a wonderful mucky time! Get your hands dirty and let your imagination run free with the clay, you never know what might appear... surprise yourself!
4. Dick and Dom - we can't wait for the mainstage return of those loveable rogues Dick and Dom with their own special brand of madcap mayhem.
5. Mr Tumble - The return of the legend.
6. English National Ballet Workshops - Coming to Camp Bestival for the fourth year running, with a once-in-a-life-time opportunity to learn from the masters.
7. Freestyle Sports Park – Expect awesome demonstrations from some of the finest extreme sports stars around and try your hand while you're there.
8. Fantastic Mr Fox Opera – An exclusive performance of Roald Dahl's classic tale.
9. Gideon Reeling present 'The Number 1 Seed' - an interactive theatre show weaving in you, the audience, every step of the way.
10. Kid Carpet & the Noisy Animals show - Lo-fi electro-pop purveyor Kids Carpet has swapped his normal live show for the enchanting adventures of gorilla, bear, hedgehog and badger as they make friends, cause mischief, contemplate the world and finally rock out at the grand dance contest.
11. Medieval Jousting - No castle is complete without its own Knights so we're thrilled that the Knights of Lulworth Castle will be demonstrating their awe inspiring jousting.
12. Rob da Bank's Music Club - Situated next to the Sports Park, The Rob da Bank's Music Club Tent will be offering workshops and demos from our trusty volunteers and a host of celebrity DJs and Band members – all eager to show you their tricks of the trade.
13. Roundhouse Street Variety Show - Featuring music, street dance, comedy, circus and theatre treats galore.
14. Silly Sportsday with the Lost & Found Bluecoats - Our favourite professional wallies, Lost & Found, will be leading our Silly Sportsday action at Camp Bestival this year.
15. Singalong with Shrek, Fiona and Donkey from Shrek the Musical - Following their hugely popular fairy tale debut at Lulworth Castle last year, Shrek and Princess Fiona from Shrek The Musical are making a spectacular return!
16. Square Peg Circus present Rime - Square Peg, seen last year in the Little Big Top, will be gracing us with their spectacular new outdoor show.
17. Stefan Gates - The Gastronaut - Renowned for his love of extraordinary food, Stefan (award winning BBC presenter and writer) will be demonstrating his fantastic gastronomical stunts in the Little Big Top.
18. The Bopps - Mischievous duo The Bopps are the masters of slapstick comedy and music for the nippers, but mums and dads might recognise Stan Cullimore, who was a founder of pop group the Housemartins!
19. The Gruffalo Live - The Gruffalo Live show is back by unprecedented demand, with a magical theatrical adventure on Sunday morning on the Castle Stage.
20. Truth About Youth - This year Oval House's Truth About Youth London will be bringing their bus of tricks to Camp Bestival. As well as performances of Bussin' it, their site specific show set over both floors of a double-decker bus, they will be running improvisation sessions, workshops on devising, script writing and dance.
21. Videopia - an interactive movie making activity that casts, shoots and screens DIY tributes to Hollywood classics. Step aboard the vintage Bedford horsebox for the full silver screen treatment. Grab some co-stars, pick your favourite film and get suited and booted before acting your socks off in front of the camera.
22. Wall of Death - Hold onto your hats! Joining us for the first time at Camp B this summer are the daredevil Hell Riders and their Wall of Death!
23. Wookey Hole Circus - Wookey Hole Circus are all under the age of 18 and are an unbelievably gifted bunch making their Camp Bestival debut in 2012! From magic tricks, to cloud swing, aerial silk performances, unicycling, juggling and balancing acts, these youngsters will wow you with their fast, fun and furious antics.
24. Watch the Olympic Opening Ceremony on a big screen – Catch the Olympics opening ceremony in all its glory.
25. Fireworks Finale - The captivatingly coruscating joy of the Fireworks Finale on Sunday night has to be seen to be believed.
And that's just the tip of the iceberg; see below for a list of more of the 100s of Free Things For Kids!

26. Art Cannons
27. Baby play area
28. Ball pools
29. Balloon sculpture workshops
30. Being 747 show
31. BMX-ing
32. Bouncy Castle
33. Bread making with Young British Foodies
34. Camp Bestival Giant Orchestra
35. Camp Bestival Kids Chorus
36. Campfire singalongs
37. Campfire stories
38. Cardboard castle Building
39. Children's Go-karts
40. Circus workshops
41. Colour Makes You Happy
42. Colouring in with Rosie Flo
43. David Gatward author
44. Decorate a cupcake
45. Diddi Dance workshops
46. Dingly Dell playpark
47. Dingly Dell trail at night
48. DJ workshops
49. Dressing Up Catwalk
50. Face Painting
51. Fancy dress competition
52. Fancy Dress Parade
53. Fidget installation
54. Fish for rubber ducks
55. Flag making
56. Fun Kids Radio
57. Giant games
58. Howard Marks reading kids stories
59. Insect Circus
60. Jellicle Cats
61. Juggling
62. Kawa Circus
63. Kids Author signings in Berewolf Books
64. Kids films
65. Knitting tent
66. Lerryn Korda stories
67. Lost & Found games
68. Mask-making
69. Matt Whyman stories
70. Maypole Dancing
71. Mazy's Art Club
72. Mini-football
73. Morris Dancing
74. Mural art
75. Music workshops
76. Ollie Mealing _ Magician
77. Parcour /Street Running
78. Piano playing
79. Pimp My Trolley
80. Play with the Fire & Water tree
81. Puppet show
82. Sandpits
83. Silly Science
84. Skateboarding
85. Soft Play area
86. Soul Park kids area
87. Stilt-walking
88. Swing dance classes
89. Tate and the Great British Art Debate
90. The Adventurers Club show
91. The Bare Knuckle Dance Battle - Old Skool Vs. New Skool Grudge Match
92. The Big Love Inflatable Church
93. The Funky Little Choir workshops and performance
94. The Jiving Lindy Hoppers
95. The Roundhouse Poetry Collective
96. Toddler's Play Area
97. Trace-a-face
98. Trapeze acts
99. Truth About Youth teenage workshops
100. UV Bubble making bicycles


Tickets avaliable from Ticketline
Adult Day Ticket - £60.00 per day

Age 15 to 17 Ticket – £35.00 per day
Age 15 to 17 Day Tickets are for anyone aged 15 to 17 on 26/07/2012. These ticket holders must be accompanied by a Ticket holding parent or guardian over the age of 30*

Age 11-14 Ticket - £30 per day
Age 11 to 14 Day Tickets are for anyone aged 11 to 14 on 26/07/2012. These ticket holders must be accompanied by a Ticket holding parent or guardian over the age of 26*

Age 10 and Under Day Ticket – FREE (but ticket required)
Age 10 and Under Day Tickets are for anyone aged 10 and under on 26/07/2012. These ticket holders must be accompanied by a Ticket holding parent or guardian over the age of 21*

Age 11 to 17 Weekend Tickets must be accompanied by a Ticket holding parent, guardian or nominated guardian. Full details below:

- A maximum of 4 young persons (aged 11- 17) per adult - MUST be accompanied by the parent, legal guardian or appointed guardian.

- All young persons (aged 15-17) MUST be accompanied by an adult over the age of 30 - MUST be the parent, legal guardian or nominated guardian.

- All young persons (aged 11-14) MUST be accompanied by an adult over the age of 26 - MUST be the parent, legal guardian or nominated guardian.
Weekend Ticket Info:
Adult Weekend Ticket (inc. camping from Thursday) - £185
Adult Weekend Ticket (inc. camping from Friday) - £175
Adult Tickets are for anyone aged 18 or over on 26/07/2012.

Student Weekend Ticket (inc. camping from Thurs or Fri) - £170
For full-time students only. Valid NUS or ISIC ID required at the box office - no other student ID accepted.

Age 15 to 17 Weekend Ticket (inc. camping from Thurs or Fri) - £110
Age 15 to 17 Weekend Tickets are for anyone aged 15 to 17 on 26/07/2012. These ticket holders must be accompanied by a Ticket holding parent or guardian over the age of 30*

Age 11 to 14 Weekend Ticket (inc. camping from Thurs or Fri) - £95
Age 11 to 14 Weekend Tickets are for anyone aged 11 to 14 on 26/07/2012. These ticket holders must be accompanied by a Ticket holding parent or guardian over the age of 30*

NB: All teens (aged 11 to 17) MUST camp in the same area as their families with a maximum of 2 teens per adult (over the age of 30).

Age 10 and Under Weekend Ticket (inc. camping from Thurs or Fri) – FREE (but ticket required)
Age 10 and Under Weekend Tickets are for anyone aged 10 and under on 26/07/2012. These ticket holders must be accompanied by a Ticket holding parent or guardian over the age of 21*

Advance Car Parking - £10 per car (or £15 cash on arrival)

Campervan Ticket - £90 per vehicle

Camping Plus - £100 per 5m x 7m plot (max of 2 adults and 4 children per plot)
Related Festival
---
Latest Festival News
---
---
---
---
---