Bestival the ultimate legal high
Social Links
Bestival 2011

7th - 10th Sep 2011
Robin Hill Countryside Adventure Park, Downend, Newport, Isle of Wight, PO30 2NU, United Kingdom

Unknown

This was our first visit to Bestival, we had read and heard so many positive things about it that we were concerned that it may not live up to our expectations, within seconds of arriving on site all our fears were set at ease.
Bestival is like the TARDIS it has the feeling of a small festival with all the associated quirkiness but there are 50,000 people there, Rob and Josie Da Bank acting as the Doctor's creating order over the 6 'fields' and campsites.
Upon arriving and walking into the festival it makes an assault on your senses from every direction. Images embedded in our cerebral cortex, forever in our memory, grabbing our attention, pushing our perceptual awareness to its boundaries and plugging into our consciousness.
It's Bestival's attention to detail in the artefacts spread all around the site that you notice, everything has been thought through carefully for optimum enjoyment. We always say that festivals are not just about the music and considering it took us 3 days to actually see a whole set from start to finish underlines that Bestival is so much more than just another music festival.
Some of the highlights of Friday, were catching some of Danny Byrd's set in the Roller Disco, Public Enemy taking the main stage by storm, their set included the classic Don't Believe The Hype. In the Big Top Mount Kimble delivered a brilliant set of experimental rock with ripping riffs that made you feel warm inside. Also in the Big Top were Mogwai, their multi layered sound delivering a wall of sound which made the whole body reverberate, their set included White Noise and Auto Rock.
Back on the main stage for Magnetic Man's set we were asked to hold our lighters in the air or our mobile phones, or if your Amish light a candle and if you've had your teeth whitened smile!!
Zane Lowe was the glue between Magnetic Man and the headliners Pendulum and kept the party mood going. This was going to be Pendulum's last UK Festival for a couple of years, their performance had the energy you would expect and was a great way to end the day here's looking forward to 2013 and a new album.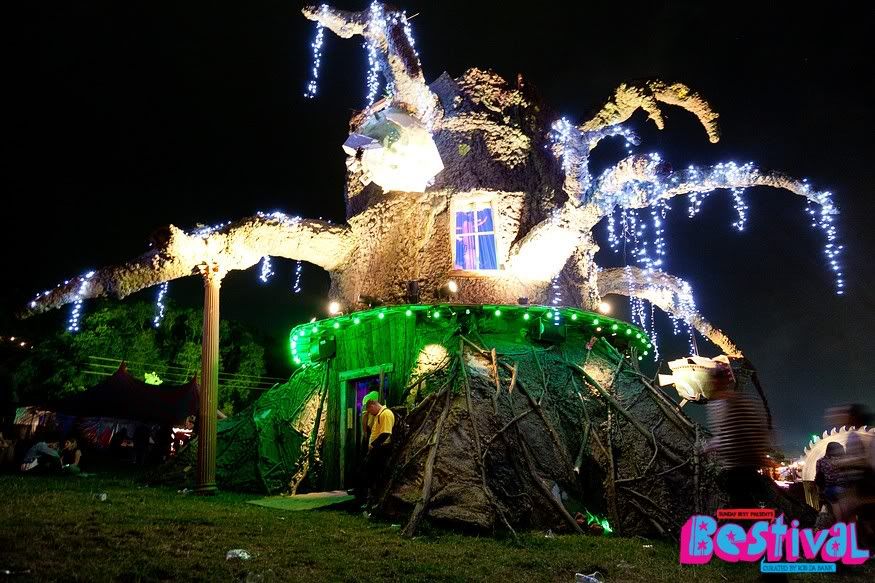 Photo:The Wishing Tree by Derek Bremner
We arrived on Saturday knowing that we had not even covered half of the site, so we set our selves the target of seeing all the zones, seeing more artists and doing a couple of interviews. However, Saturday is fancy dress day at Bestival and this year's theme was Rock 'n' Pop Divas and we had not planned into our schedule to take photo's every 30 seconds at one of the biggest fancy dress parties ever in this fairy tale environment.
On the main stage Village People arrived in their traditional costumes delivering a wonderfully camp set of all their hits. It was quite surreal to see a crowd dressed up as the people on the stage with YMCA being a highlight from the many comments we have seen, a memory which will stay with us.
Over in the Psychedelic Worm CocknBullKid wowed the crowd with a great performance of honest 'pop' songs which included CocknBullKid and Mexico.
Ed Sheeran was also appearing in the Psychedelic Worm, but alas it wasn't big enough for one of the must see acts of the year. The arena was full 15 minutes before he walked on stage, people were crawling under the sides of the tent just trying to get a view. It was here that we saw first hand the difficulties that disabled people have seeing artists if there is no viewing platform. As for the performance it was littered with his hits much to the delight of the crowd.
On the Solar Powered Bandstand we managed to catch Trophy Wife and saw a great set of electro/dance/rock to a small but appreciative crowd. Drummer Kit Monteith reminded the crowd that they could dance and within seconds everyone was on their feet, indeed there were three occasions when the sole member of security had to get the crowd off the stage.
The Saturday night finale was the return of The Cure, Robert Smith and the band performed an interesting set which was certainly one for the fans, as it was not a greatest hits set.
Oh and we haven't mention we went to a wedding in The Big Love Inflatable Church, with a trouser less vicar wearing makeup and the bride and groom dressed up as pirates exchanging edible sweet rings. When the ceremony finished the congregation that had filled the church had to make a wedding arch so the bride and groom could leave. If only all weddings could be this much fun with complete strangers!
Sunday seemed more relaxed than the previous days, there were lots of children who seemed to appear from nowhere, luckily the craft tent was available to keep the little ones entertained and of course there was the Spoon Army.
Still not having visited all of what was on offer we decided to visit Club Dada, a great find with its comfy seating resembling an introducing stage we had seen before. A Mambo lesson was about to start and within minutes the floor was filled with people learning new steps and having fun. Everyone wanted to join in the fun everywhere we went, just one big party spread over 4 days.
On the Solar Powered Bandstand we managed to catch some of Tankus The Henge delivering their unique raucous sound to an appreciative audience, and for their last track half of the band jumped off stage and started a conga with the audience.
In the Big Top Labrinth played to a full tent and finished his set with Let The Sun Shine. Next up was Noah And The Whale, before they came we was treated to an instrumental version of Boheimien Rhapsody which had the crowd singing along word perfect. They received a warm reception as they played tracks from both their albums. A few years ago we saw them play on an introducing stage singing Five Years Time and wondered where would actually be in 5 years time. Now we had the answer firmly in the arms of their loyal fans. There set also included L.I.F.E.G.O.E.S.O.N for which they received a great ovation.
During the wait for the next act we witnessed one of the great festival traditions of people diving in the mud!
James Blake's set of experimental electronica, was simply stunning, creating truly unique sounds, and on occasions a bass note which made your entire body shake. His performance was refreshingly different from many other bands and it is apparent why he was identified at the beginning of the year as one to watch.
In the Bollywood Tent both Fat Boy Slim and Pete Tong performed great sets, the tent was filled to the rafters, so much so that we had to leave early due to a few minor injuries.
Bjork was closing the festival, who later this year has been nominated to receive an award from AIM for her outstanding Contribution To Music. Unlike other artists there were no camera shots of her, as it was all about the music. In her own words she said 'I did not write the bipolar piece for airing at a festival' and many people seemed to agree, but Bestival had plenty of other varied music on offer around the site.
As Bjork completed her set the Grand Finale started, we stood outside Cocktails and Dreams a 24 hour dance bar to watch the spectacular firework display light up the forest backdrop we knew it was just the start. As it finished everyone cheered before a further sound made us turn around to see the art installation behind us set off a second assault of fireworks and streamers along with giant balloons for the crowds to play with or let loose and float into the night sky.
What was a great way to end a memorable weekend and summer festival season.
Baz Luhrmann's 'Sunscreen' opening lyrics are "If I could offer you only one tip for the future, sunscreen would be it".
Festivals For All Say "So one tip for the future go to Bestival atleast once, you won't regret it".
Bestival Early Bird Tickets go on sale at 9.00am tomorrow morning
Photo of Bjork by: Jamie Baker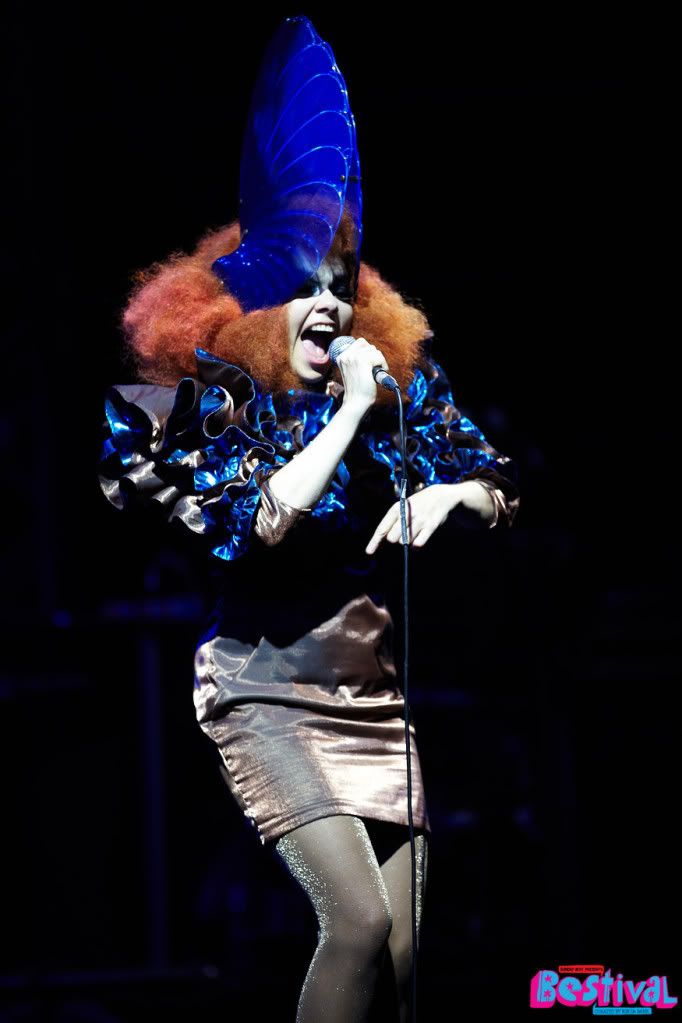 Photo The Cure by: Louise Roberts
Related Festival
---
Latest Festival News
---
---
---
---
---