Belladrum Tartan Heart Festival 2104 Review
​Belladrum Tartan Heart Festival – it would be ridiculous not to!
Social Links
If you like your festivals to feel safe and organised, clean and civilised, then Tartan Heart is perfect. It sits nestled in the trees on a beautiful estate in Beauly, just 20 minutes from Inverness. The whole of the site is well thought out, plenty of pink portable loos, kept immaculate at all times. There were clearly marked drinking water points, good access for disabled campers, lighting around all the entrances and bag checking areas and mostly really helpful stewards. There is a general feel of order to the whole affair, which as used to chaotic sprawling festivals as I have now become, quite pleased me with the entire efficiency of it all. Even if I didn't notice the IN / OUT signs for bar queues and went straight down the empty one anyway. Or strolled right up to the merchandise stand, sidled into a gap and purchased my programme before realising to my right was an orderly queue of roughly 50 people…patiently waiting…oh well!! I did have to laugh at my own required effort of not being out of order at such an orderly festival.
The festival its self is set out as a range of different areas, all cleverly fenced in and corralling you around. It was like wandering through a large village fete yet constantly coming across more delights to feast your eyes on or turn your ear to or park your bum near. There were walled gardens, tree lined avenues, parapets and a sunken main stage. Bandstands, hay stacks, hammock circles, cycle tracks, a traditional horse merry- go- round, giant mushrooms, tartan hearts in trees, bothys and much much more.
Apart from the kid's field at Glastonbury, which is pretty impossible to compete with, I have never seen so many activities for young people to take part in.
I must at this point put in general big thank you to all of the activity workers who kindly, allowed us to enter for free, so we could capture some of the essence of the area. As many of the activities were technically for children, but how can one review if one has not had a go? So thank you to you all.
Moving on I noticed a large gorilla seated upon a small square building in the distance my intrigue got the better of me. When we reached the said building it turned out to be a small square turret style building at the end of a long parapet overlooking the main stage the 'Garden Stage' as it was called.
Inside the building were a small group of people under a recycled bottle chandelier. We leant over their tartan heart decorated fence, introduced ourselves as their new neighbours and complimented them on their fantastic spot for their view of the Garden Stage. We then began to discuss the luscious kitsch ladies adorning either side of the stage, which in fact these lovely people had painted. We were in fact talking to the creative production crew from the weekend. The creators of the John Lennon installation outside of the Bella Bar, the white winged horses in the wedding woods: all Felicity Nightingale (with her happy helpers) from Flick of Paint
Also worth a mention the beautiful Elephant thoughtful in pose upon a small building was by Allison Weightman to raise awareness of the pointless killing of one of Kenya's most legendary elephants, called Satao. Legendary for his tusks which reached the ground, which is the reason he was killed by poachers. The Ivory trade must be stopped.
So first things first. Our first adventure was into the HSPC Walled Garden, where, unbelievably you could find Hot Tubs, a Vintage Flea market, a beautiful seating area placed around a dug out fire pit and a huge carved Celtic totem.
There was a Folk stage in one corner, many environmental or campaign type stall holders and the Burk and Hair Real Ale Theatre Pub. Completely enclosed like its own mini courtyard, with one end stage, the opposite decorated in all things steam punk musical instruments and influence.
The bar sold ale only and the open air centre was filled with hay bales for seating. We were initially shocked to be told beer tokens were required and equally disappointed to learn the beer token kiosk was the other side of the main arena. Still the incredibly happy to help barman swapped back some of his own beer token for our cash, enough to enable us to purchase one pint each for the continuation of our wander further into the thrum of the Belladrum. We had a quick listen to Far, very mellow acoustic, very good and after a few whistles, and whoop whoops accompanied by much clapping, we walked on.
We were immediately distracted from our mission to acquire beer tokens by a rather adverse camber circular bike track. Empty. No one playing on it. "Linzie!" I demand, "Go get on a bike so I can talk to this company and take pictures." "Well," she replied "it would be ridiculous not to." And off she went.
The company were called For the Love of Bikes and their purpose was to promote bike riding as a family activity, to promote cycling confidence and get people having a go. This enthusiastic and energetic crew are part of a Café and Bike workshop enterprise on Stevens Bray in Inverness and they also do outreach projects and work closely with local primary schools. Speaking to the project manager Penny Phillips she explained "our Café is fantastic, all organic locally sourced products and we just want people to become more confident on using bikes so it is safer for them as road users and easy to have fun as both a mode of transport and as a family activity." Linzie managed the track, without incident and bagged herself a lollipop for her troubles and a small round of applause. We left having formed a small queue of interested people for 'The Love of Bikes' to continue with their day.
We moved on further into the site, passing a beautiful tree lined avenue and a large handmade mushroom. Under which we found solo artist Leanne Smith just beginning her set. Her voice was soft and beautiful. Her support band melodic and rhythmic. We tried not to talk over her as our excited eyes scanned the interesting looming horizon, not least because of the white Pegasus horses floating in the woods behind her hiding a discrete octagonal building with a small wedding party going on. Congratulations! Or the tartan hearts high up in large pine trees in the distance. We stayed for a couple of Leanne's songs, applauded and made our away towards the belly of Bella and hopefully the beer token kiosk.
Our next distraction was the stunning horse merry-go-round. It was beautiful. And even more beautiful when lit up at night. However it was downright scary when closed down and turned off in the evening. Something very spooky about that fairground ride at night.
We then bumped into a lady promoting the Fire Walking workshop run by Oona Mcfarlane for charity at the TirNaNog arena. We were filled with excitement to learn we could take part in this if we attended a preparatory workshop to be held later that afternoon. We put it on our list of to-do's and then promptly lost all track off time, missing the workshop.
But until then we trotted on, finally spotting the beer token kiosk and exchanging our cash for tiny pieces of paper worth four pounds each. This gets you one drink, which strangely you cannot take outside of the arena back to your camp site.
With beer tokens in hand we rushed to the nearest bar – the Ballabar, with a square bandstand outside and a huge hay stack for sitting on. I loved the way people grabbed their own bales and made their own temporary group corral. Like being in a country and western, without the horses and spurred heel show downs.
Enjoying our Crabbies fruity ginger ale we wandered on and came across a highly energetic and colourful character by the name of Ron Bird. He was conducting a large group of drummers, including adults and children, while prancing around in the centre of the circle instructing the drumming with clear enjoyment, drum sticks and a whistle. We were quick to throw ourselves into the action (well it would have been ridiculous not to) and drummed along, twirling and stomping along when told to with the rest of the engaged audience.
The Guarana Street drummers run workshops at all sorts of events and even have a free drumming session in the Ashgrove Children's Centre in Gillespie Place in Aberdeen every Wednesday. So if you live nearby and you like drums, I would highly recommend swinging by and having a go one Wednesday at 5:30 if you are a kid or 7:30 for adults. It was great fun and the enigmatic thrumming vibe the large group of drummers produced was fun and impressive.
Speaking to Ron after the workshop I asked him why people should come along and take part: he said "Because we've got the drums, we've got the enthusiasm and we've got the smiles". Now that's impressive for a completely volunteer led free activity in Aberdeen.
Next exploration was into an area that was based around the GoNorth Seedlings Stage. A venue for young unsigned acts. By Jove they were good! We listened to Searching for Donkeys, who were loud, proud and clearly enjoying themselves, as we spoke to the projects based around this area. Most impressive was the Young Scot crew who were engaging with adults and young people.
They had tags that tied onto a simple piece of fencing. And each tag had something written on it. Upon enquiry June, the project outreach director and engagement officer explained that they were promoting the Youth Climate Challenge fund which is available across Scotland for anyone under the age of 26 who wants to get involved in sustainable, environmental projects that will influence the government into more sustainable living brought about by young people. You can find more info about the fund here.
The Young Scot crew were all volunteers, all knowledgeable and enthusiastic. Ross , with a pink beard, who was about to go walking around site with their tags, explained they were asking people to write on them what advice would you give to today's young people for them to focus on?
Reading the tags was enlightening and amusing. You could tell those written by young people and adults apart fairly easily. Especially those who wished for unicorns and more ice cream shops, compared to better facilities and after school homework clubs. Linzie wrote on hers: Aim high and hold the aim. I wrote: Be a good person and everyfing will be well.
We then watched some of Spaced. An impressive three piece band, the lead singers voice quirky yet powerful. An interesting mix of the sound of the Sundays and a Jack Black kind of erratic rocking thrash. Their song entitled 'Fire Extinguisher' was brilliant and after the small crowd roared in applaud the lead singer amusingly accused them of being loud.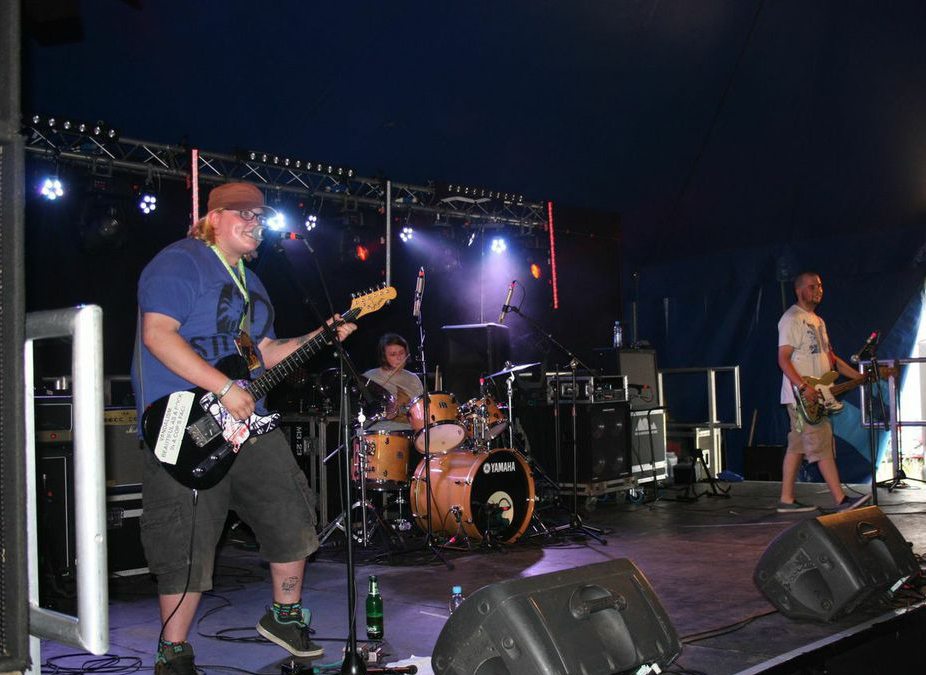 While still listening to Spaced we ventured outside of the GoNorth tent and came across a beautifully decorated gazebo with guitars and a drum kit, unmanned with two large cameras and a film rig set up pointing in. Like a red rag to a bull, Linzie was in reaching for a guitar, ready to get her jam on as a group of young men came to enquire who we were. It turns out they were from a project called The Boatshed, working with the Belladrum festival catching artists from across the site who were willing to be filmed doing a live session in the Gazebo. The director of the project, Alex told us they were about to launch a record label with none other than Willie J Healey a young rock and stroll artist from Oxford. The whole purpose of The Boatshed project was to engage with new up and coming artists giving them a platform to perform from and record in. They were a great bunch of lads and we managed to get some pictures of them filming and recording Catfish and the Bottle Men, who after we chatted with them, invited Linzie to come and jam with them the following day. It went on the to-do list but was missed due to ever ebbing and flowing timelines!
Next we strolled off, refilled our hands with another Crabbie can, correctly utilising the IN / OUT signs this time. We regrouped at the main bar and sat on the hay bales enjoying the unusual alternative rock and pop sounds of a band called Lionel.
We really enjoyed them, the main singer Josh had a certain The Kooks kind of way of throwing his vocals around. We also thought they sounded a little like the Jam, which Josh was happy to be compared with and then again we were on our way.
We bumped into a very dapper young man who turned out to be the lead singer of a band called Ballin Jacks. They played later at the BellaBar bandstand and were very rock and blues. We didn't stay long but enjoyed the strong throng of their sound and the cool seductive nature of Rudy's voice.
Unusually for me I was then drawn to the banging Scottish sounds drifting up from the Garden Stage, (I am English and can only take so much Ceilidh) The band were called the Big Fat Ceilidh band, and they were not wrong. Their bass line and electrobe sound was big and fat. Woven among the traditional Scottish sounds of the fiddle and the pipes. They introduced each song and simply said if you know this one, get into a line (or group of two/three/four) and off you go. No 10 minute interlude of instructions, no long winded run through to endure. Just get stuck in and listen to our incredible band. They were incredible, like a cross between techno and Scottish. Thoroughly impressive and enjoyable.
We found refuge back in the Burk and Hair Pub theatre, where the hay bale seats had been removed under cover and the internal space was being splattered by huge rain drops. However the two piece acoustic band that were playing entertained the crowd and after a couple of pints of Skye Red ale we entertained the crowd with our own duet dancing in the rain to Doc Livingston and Brendan Martin. An Americana blue grass sound of fiddly diddly rock.
As soon as they did their cover of Paint It In Black, Linzie and I hit the rain splashed space and danced until the grand finale. Soaked to the skin but happy within, we took our praise from the band and the supportive audience and bumbled down to our next adventure. Doc was from the Isle of Skye and you can find out more details about him here.
We took a quick spin at this point back to our campervan to gather evening attire, jackets and hats and then came straight back in to sit and listen to the old school and awesome Grand Master Flash.
Sitting beneath the nose of John Lennon we were discussing how to review the GM Flash when a group of youngsters came by. Average age of 14 I would say. We asked them if they had enjoyed the gig. They had.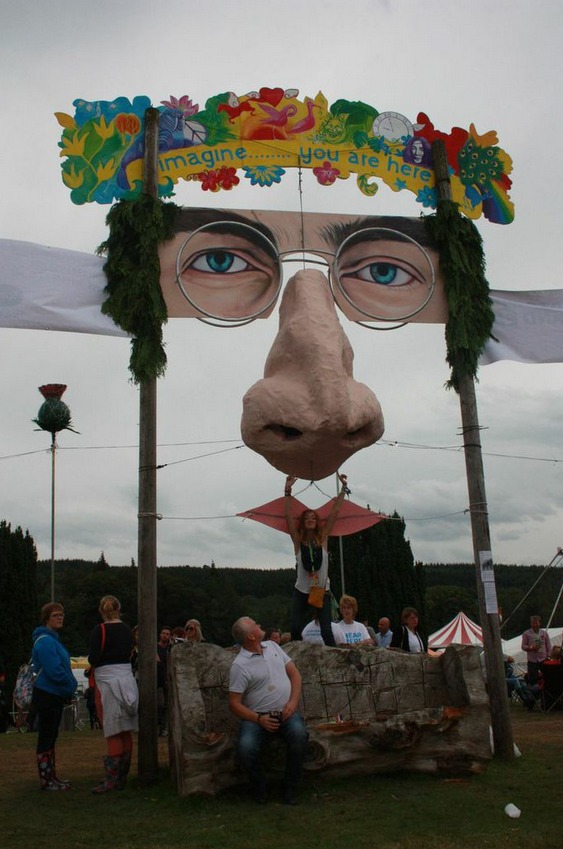 Next up was I Am Kloot inside the Black Isle Brewery Grassroots stage. Originating from the Manchester Acoustic Movement they were very lyrical with the storytelling in their songs. Their mostly acoustic sound with gentle drums. I found the lead vocalist had quite a nice gritty but also soft tone to his voice. Most enjoyable even though we left early to hot foot over to the Garden Stage again to hang from the parapet watching the legend that is Tom Jones. What can you say about Tom Jones that has not been said already? Quite the performer, pleased the crowd with hit after hit. And in the spirit of things we only wished we had knickers to throw at him alongside the squeals of delight from the ladies and the pouting impersonations from the gents. All in all a great first day at the festival with two names.
We wandered the site randomly a little longer, accosting people for laughs, listening to the drifting sounds while falling on the slightly squelchy ground. We sat here, there and everywhere, enjoying the friendly company of strangers. Finally whiling away the last hours of darkness beside the fire pit in the HSPC Walled Garden, enjoying the unofficial jamming between the last crowd of eight of us still awake.
So you can imagine, Saturday took us a little longer than planned to get going and get back in the arena to do it all again. But once we were in, it was again, beautiful and full of surprises. We still found more unvisited areas, the hammock circle in particular was memorable. Mark Stevens saw his circular hammock installation as a decorative contribution to the festival. I asked Mark if he had been having fun as an unofficial minder of all the children inside the hammocks, "They come in as maggots and hatch as beautiful little butterflies!"
We found our way back to the Burk and Hair at one point and came across a gentleman totally dressed in yellow tartan, playing music from the first half of the 20th century using Vinyl on two Gramaphones. What a find! The sound was wonderful, scratched, dated but brilliant. His name was Lord HolyRude – vintage disk jockey and he was much fun.
We had a good wander around the trader's quarter, finding some beautiful stalls and amazing food outlets. I introduced Linzie to her first Falafel which we completely devoured with every extra topping and hot sauces we could add. Scrumptious.
The sun was shining, we found a perfect spot under the parapet on a wall to rest our weary feet and my aching back while kicking our heels and singing along to Ex-Simple Minds. Absolutely brilliant trip down memory lane, you forget how many you know. And sitting on that comfy wall, we tapped our toes and sung out everything so loud (or at least I did as Linzie claimed to be too young for some of them – pah!)
Next up was two awesome occasions at the Garden Stage. First was the performance from Reef. Reeeeeeeeeeeeeef!! Gary Stringer still as hot as ever. Plenty of bowler hat waving as we crept closer and closer to the front. Second occasion was the Holi Fest, where all the coloured paint dust came out. Wherever there was colour, we ran, we found and we put not just our hands up but our faces too. Reef were fantastic but so were we dancing in the dusty dusk of colourful madness. Short video here.
We had to head away from the main stage for a while as Reef finished and Razorlight came on as we needed fluids. Boy does that paint dust affect the vocal chords!! So it was a quick dash round the food area for some yummy noodles, the main bar for more Crabbies, and then back to Razorlight. Hardly any voice left between us we enjoyed some of their set, but with our feet,backs and throats hurting by now we decided to make a move back to our campervan and enjoy the fireworks from there. As strange as it may seem I also had an ulterior motive in that the ISS (international space station) was passing over at 11:10pm, it was an incredibly clear night and as with many things in life – a must see. I was also hoping we might also see a meteor or two as it was Persoids season. We were not disappointed.
The ISS was shining bright and zoomed purposefully across the sky. Obvious and wonderful in the beautiful dark highland sky. The finale fireworks began and they were impressive. One particular rocket I hadn't seen before, which I am going to call MEGA BLASTER TWIZZLE, because it went up really high with a clear twizzling white continuous tail and let off the largest boom I've heard and biggest expanse of dazzling display. And they only used two of them. God only knows how much each one of those cost. But we loved it. And then, as the smell of sulphur past over the eerily quiet camper fields, we noticed a huge comet in the sky. Not a shooting star but a big ball of orange burning flickering hugely fast travelling comet right across the sky until it bounced off our atmosphere and was no more.
Utterly impressive outer galactic show to end the Thrum of Fun that was the Tartan Heart Belladrum festival. Where there is so much to do, just don't forget to see the bands too!
Review and photos: Lou Hyland
Related Festival
---
Latest Festival News
---
---
---
---
---