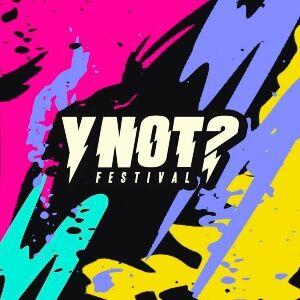 Aston Hill Farm
Pikehall
Derbyshire
DE4 2PG
United Kingdom
1st - 4th Aug 2024
Tickets for adults (without camping) from £165.00
---
Y Not Festival 2024 Overview
Y Not Festival, nestled in the picturesque Peak District of England, is the quintessential pilgrimage for indie music enthusiasts. This annual celebration of all things alternative has been enchanting festival-goers for over a decade, transforming a bucolic setting into a sonic wonderland. For those who crave an authentic and intimate musical experience, Y Not stands as the ultimate antidote to sprawling, corporate festivals.
Since its inception, Y Not has maintained an unwavering commitment to championing emerging and established indie artists. Its stages have seen legendary acts like The Libertines, The Cribs, and The Wombats ignite the night, while also offering a platform for rising talents to shine. The festival's line-up is a who's who of indie, encompassing a diverse spectrum of sounds, from folk-infused melodies to electrifying guitar riffs.
Y Not's atmosphere is defined by a distinct sense of camaraderie. Nestled within the undulating hills, it exudes an unpretentious, almost familial, vibe, drawing in a crowd that's fiercely passionate about the music. Campers, adorned in vintage band tees, gather around campfires, forging new friendships as they discuss the performances they're most excited about.
While music is at the core of Y Not, it offers an array of other attractions. Art installations, pop-up theatres, and delicious food vendors create an immersive experience that transcends the stages. The magical Silent Disco, where festival-goers don headphones and dance beneath the stars, is a testament to Y Not's commitment to the extraordinary.
However, Y Not Festival hasn't been without its challenges, including a temporary relocation due to weather concerns. But like any true indie hero, it's weathered the storms and emerged stronger, promising fans that the show will go on, come rain or shine.
Y Not Festival, with its indie heart and scenic surroundings, is an essential pilgrimage for those seeking the real deal in the world of music festivals. With a sense of community, an undying love for indie music, and an adventurous spirit, it's where you can truly let your hair down, embrace the music, and become part of so
Y Not Festival Ticket Information
Adults (Over 13) 3 Day Camping: £125.00
Children(Under 14) 3 Day Camping: Free
Adults (Over 13) 3 Day Camping: £165.00
Children(Under 14) 3 Day Camping: Free
All prices include booking Fees
---
---