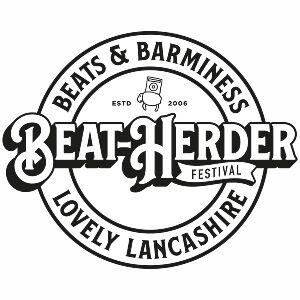 Dockber Farm
Sawley
Lancashire
BB7 4LH
United Kingdom
18th - 21st Jul 2024
Tickets for adults (with camping) from £235.32
---
Beat-Herder Festival 2024 Overview
Nestled in the heart of the Lancashire countryside, Beat-Herder Festival stands as a unique and unapologetically eccentric gem on the British festival circuit. What began as a small gathering of friends in 2006 has evolved into a three-day celebration of music, art, and all things eccentric, earning it a well-deserved place among the UK's top boutique festivals.
Festival-goers are immediately struck by Beat-Herder's bohemian charm, a stark contrast to the sprawling, commercialized gatherings elsewhere. Upon arrival, one enters an immersive world where anything goes and individuality is celebrated with open arms. The festival's motto, "Herd 'Em Up," perfectly encapsulates the inclusive and communal spirit that permeates the event.
Musically, Beat-Herder prides itself on its eclectic line-up, with a diverse array of acts spanning across genres. From renowned headliners to underground gems, the festival caters to the tastes of all attendees. Whether you're into indie rock, electronic beats, reggae, or even a bit of folk, Beat-Herder has something to tickle your musical fancy.
Yet, what truly sets Beat-Herder apart is its surreal and immersive landscape. Festival-goers wander through an array of surreal environments, from the idyllic Village Green to the hidden dens of the Trash Manor. The whimsical spirit of Beat-Herder is exemplified by its floating stage on a converted tractor, an old fire engine transformed into a DJ booth, and an underground club that's a reimagined Soviet bunker.
Art installations and interactive experiences are also a cornerstone of the festival, ensuring that every corner you turn holds a new visual delight or unexpected surprise. The whimsical world of Beat-Herder truly comes alive at night when neon lights illuminate the woods and fields, and the party never stops.
Beat-Herder Festival is a place where self-expression, creativity, and unbridled enthusiasm reign supreme. It's a testament to the power of imagination and community, offering an unforgettable experience that keeps festival-goers returning year after year, further solidifying its status as a beloved and essential fixture on the British festival calendar.
Ticket Information
Tier 2
3 Day adult camping: £182.32
3 Day teenage (13 - 17) camping: £129.32
3 Day children (2-12) camping: £49.50
3 Day infant (0-2): Free
4 Day adult camping: £235.32
4 Day teenage (13 - 17) camping: £155.82
4 Day children (2-12) camping: £65.00
4 Day infant (0-2): Free
All prices include booking fees.
Payment plans available
Tickets available from the the festival website
---
---